An Honest Confession: We were 3 rookies with super low budget, planning a last minute trip to McLeod Ganj. Besides, it was the the time of a long weekend when all of Delhi heads for the hills. Chances of success- scarce.
But we weren't about to let go of the idea that popped in our heads. It was one of those once-in-a-long-time impromptu plans that fills your heart with excitement. In spite of having to consider the above mentioned hurdles and the safety of a girls only outing, we did manage to pull off a refreshing and well managed trip.
Go ahead and find out how we did it, so that the next time you're in a fix you can use one of these hacks:
Total Budget per person: INR 3,000/-
Duration:  1 Night / 2 Days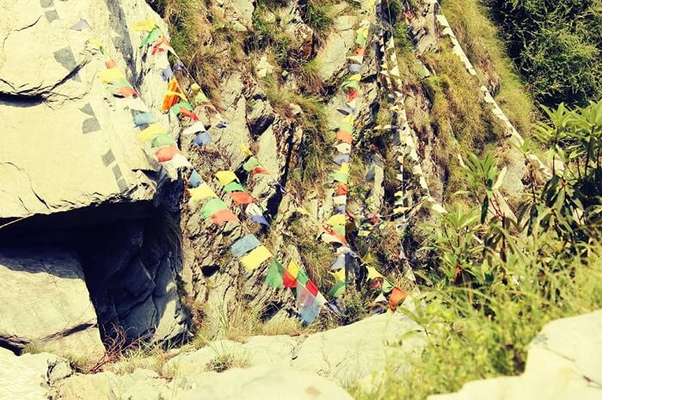 Let the exciting journey begin!
The first 15 minutes of my mundane life are spent staring at the hills (on my laptop) every single day. Being a workaholic, a break seemed almost impossible until one fine day I just decided to follow my heart.
All pumped up and set for the trip, I roped in 2 more friends and that's when the HPTDC website flashed – no tickets available! What followed was one scary thought – I won't find a room either. But that was no match for my enthusiasm. The will to 'just go' forced me to find an alternatives!
How we booked last minute tickets to Himachal when HPTDC buses had no seats for us 
One of the perks of working in a travel firm was getting leeway on 11th hour (or 59th minute, to be more precise) travel planning. Go bug your colleague a little and Voila! The next thing I know, we were on a surprisingly comfortable journey to McLeodganj.
Round Trip Cost: 1,800/- per person
Amount Left: 1,100/- per person
Hack: Contact Travel Agents in such situations
Tip: HPTDC buses are cheaper. If you plan in advance, you can save!
Traveler friends to the rescue: Even at this peak time, we found us a cozy room and our worst nightmare was over!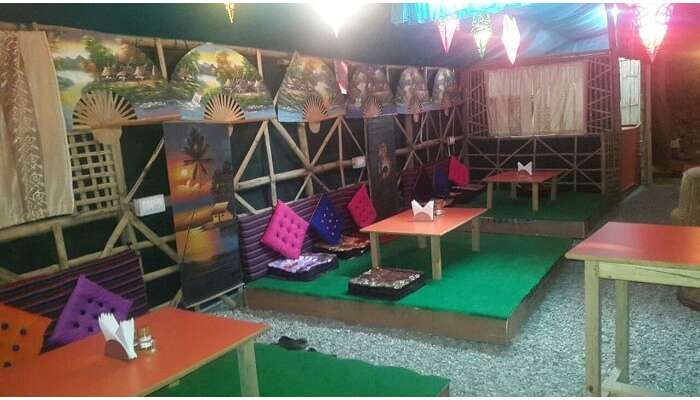 Always keep your resourceful traveler friends close.
Getting in touch with a few of our traveler friends, we discovered this quaint place to stay called Shanti Café and Guest House owned by John, an avid traveler and tour guide. He managed to get us a room at his place on a very short notice and saved the day!
Cost: INR 900/- per night (300 per person)
Spent: INR 2,100/- per person
Left: INR 900/- per person
Hack: Always keep your resourceful traveler friends closer!
Day 1: Mind you, we went to chill & relax, not to exert. And our trip was just about that!
Stop 1: Food. Views. Weather.
A sudden jerk woke us up to the dazzling sights. Our bus twirled around the winding roads, following the meandering Beas river full-of-pebbles and the sky in hues of gold and mauve. Our bus came to a halt! The weather was just right. We couldn't have asked for more! We reached Mcleodganj, checked into the cozy rooms (just 5 minutes away from the bus stand), freshened up & ordered some delectable breakfast!
What we ate: Omelettes & Coffee!
Cost: INR 50/- per person
Spent: INR 2,150/- per person
Left: INR 850/-
Long Weekend Trips Starting @ Rs 3499/-
Take a trip to spend the upcoming long weekend with your buddies.
✓ Stay at 4 star rating hotels with local sightseeing, meals and transfers.
✓ Travel in AC coach round trip (from Delhi).
✓ All Inclusive Deal– Camping, Jeep Safari & Trekking as per itinerary
✓ Sign up NOW to celebrate the long weekend out of town!
Stop 2: Next, we decided to chill at Shiva Café enroute Bhagsu falls.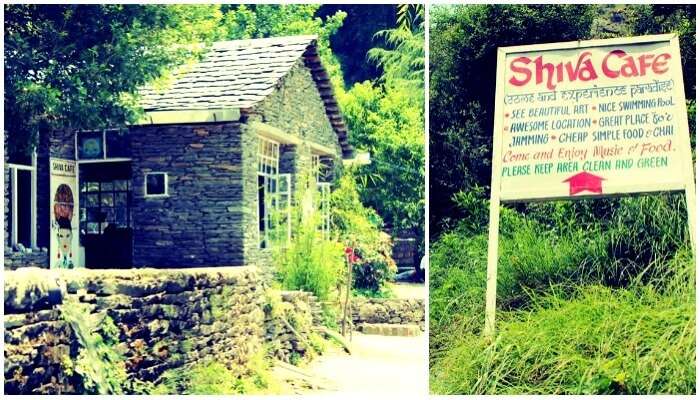 We walked our way to the famous waterfall. It's a tiny hill station and you don't need to get on wheels.
We spent our day beside the waterfall, away from the tourist jazz. Walking uphill can be taxing was but trust me, the tranquility up there was worth all the trouble! Once we reached the top, we knew why the place is so damn popular. It's a lovely laidback café with the waterfall gushing by its side. And oh, it's a pot head's paradise! 😉
What we ate: Maggi, Hash browns & Cold coffee
Cost: 120 per person
Spent: 2270 per person
Left: 730/-
Stop 3: Woeser Bakery & it's Coconut Paradise!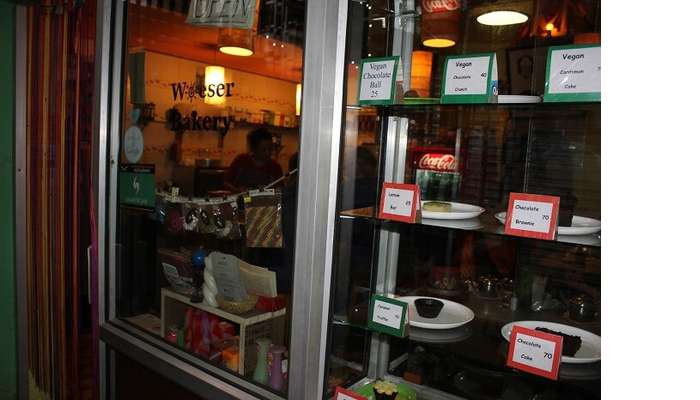 A local we befriended on our way to Mcleodganj had recommended this bakery. While it looks like any other cafe, the delectable options it serves left us wanting for more! Variety (to the power infinity) of teas, mouth watering cookies & brownies, freshly brewed cappuccino – I bet you won't find coffee like this any where else!
What we had? Cinnamon Tea, freshly brewed cappuccino & Coconut Paradise Cookie
Cost: 130 per person
Spent: 2400 per person
Left: 600/-
Tip: Do not return without trying the freshly brewed Cappuccino & Coconut Paradise Cookies
Stop 5: What's a trip to the hills without a night spent gazing at the sky?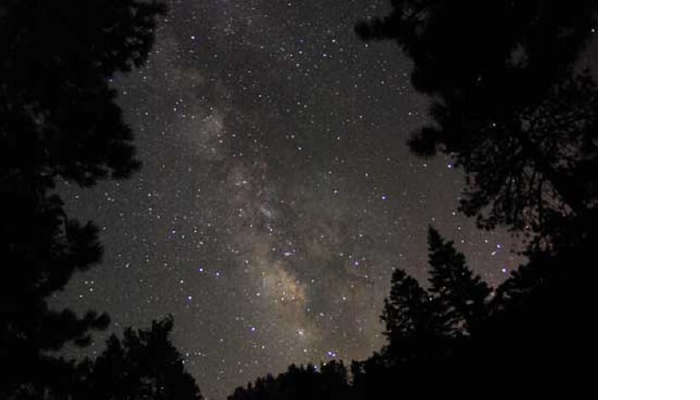 The tiny little lawn, a lantern, one old monk, a few glasses, the creepy sound amidst the pine trees – our little patio of Shanti Cafe. No network, no light, just a few random old numbers playing on the ipod – that's all we desired – to be cut off from the external world  & to dwell in our thoughts under the star lit sky with a cool breeze flowing through our hair amidst the wild.
What we ate? Dal, Roti & some Chakhna
Cost: 120 per person
Spent: 2520 per person
Left: 480/-
Tip: John can help you arrange some liquor, if in case you want it!
Day 2: The un-visited village & the hail storm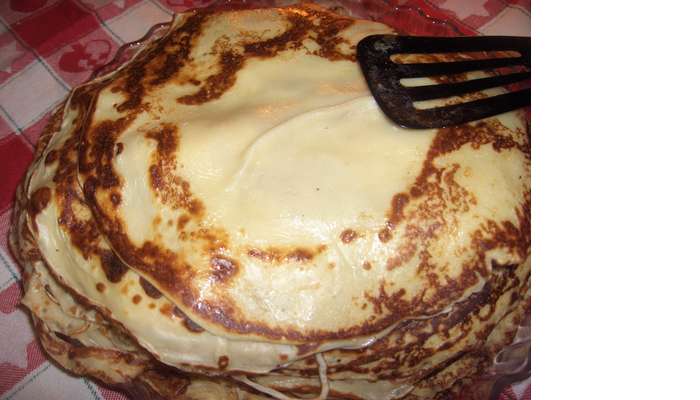 A way through the woods from the cafe led us to Dharamkot. We had until 5 in our hand to take a quick walk to the village & be back to the cafe for some Kahwa Chai (yes, in Himachal) & chocolate pancakes – they were yummy, especially for the price we paid.
Breakfast: Pancakes, Chai & Cheese Sandwich
Cost: 100 per person
Spent: 2620 per person
Left: 380/-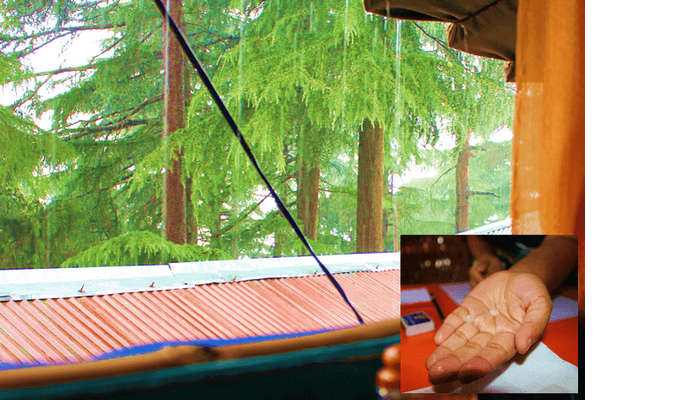 So, all geared up, we stepped out, only to return.
It was near 12 already and we only had a few hours left now. We couldn't just stand there in the shed and wait for the rain to stop. So, we finally walked back to Shanti Cafe which looked totally different now. The hailstones falling in the lawn, the trees swaying in the cold breeze, the drizzle soaking our faces & the smell of delicious food – it was our tiny little utopia! Yeah, we ended up spending the rest of the hours in the cafe hogging on every yummy morsel available – cheese french fries, pancakes, momos, coffee and lemon ginger tea.
Cost: 190 per person
Spent: 2810 per person
Left: 190/-
Though this was the quickest break we took our guest house made it all the more special for us! And did we mention it was an absolutely safe all girls trip?!
So, come on girls, you now know that a limited budget, safety issues or ticket unavailability can't stop you from taking a break. Head out and go for that long overdue break!
Long Weekend Trips Starting @ Rs 3499/-
Take a trip to spend the upcoming long weekend with your buddies.
✓ Stay at 4 star rating hotels with local sightseeing, meals and transfers.
✓ Travel in AC coach round trip (from Delhi).
✓ All Inclusive Deal– Camping, Jeep Safari & Trekking as per itinerary
✓ Sign up NOW to celebrate the long weekend out of town!
For Shantanu, escaping to a land unknown and engaging in soul-pleasing adventures is the best way to strengthen bonds. So, he booked himself and his kins a splendid 4 nights 5 days North East family tour package and set off to make memories in the splendid landscapes of Namchi and Pelling.
Trip Type: A fun and frolic family getaway!
Trip Duration: 4 Nights 5 Days
Agent Name: Wecare Holidays
Trip Cost: INR 44,600/-
Inclusions: Breakfast and Dinner, Non AC Local & Airport Transfers, GST, Transport Tax
Exclusion: Lunch, Flights, Insurance, Entry Fees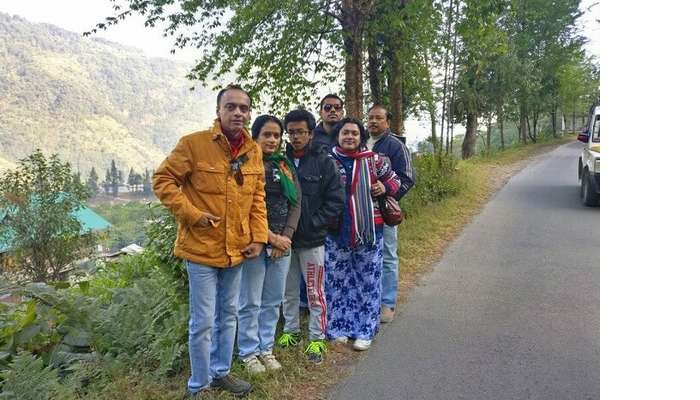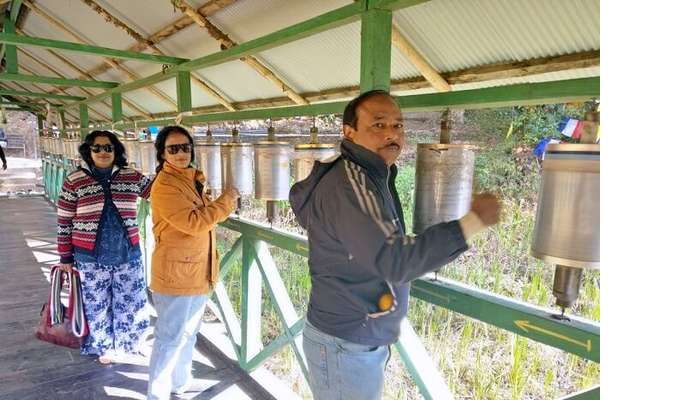 More than a hobby, travel for me is a passion. It is a journey from the world we are living into a world that is yet to be discovered. For me, the prime motive of going on a holiday is to relax and spend quality time with family and friends. It lets me recharge my body and revive my soul to regain the energy I lose during my hectic work schedule.
I and my family were already certain on the location – the blissful North East. All we now needed was a tour package within our specified budget. I had come across TravelTriangle through Google search, but it was only after a friend of mine confirmed it to be a good option through his own experience did I actually go ahead with it. I finalised upon Wecare Holidays and thankfully, they did not give me any reason to regret it throughout the tour.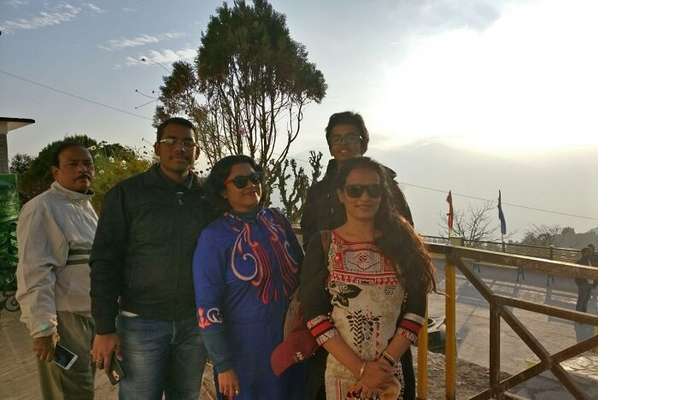 Here's what all me and my family experienced in Pelling and Namchi:
DAY 1: Transfer To Pelling From New Jalpaiguri
Since we had stayed the previous night at a hotel near the NJP Railway Junction (we had arrived a day earlier than planned), we woke up refreshed and ready for the adventures that awaited us on our North East family trip. Our trip representative, who had met us with a broad smile on his face at the train station the day before, drove us all the way to our hotel in Pelling.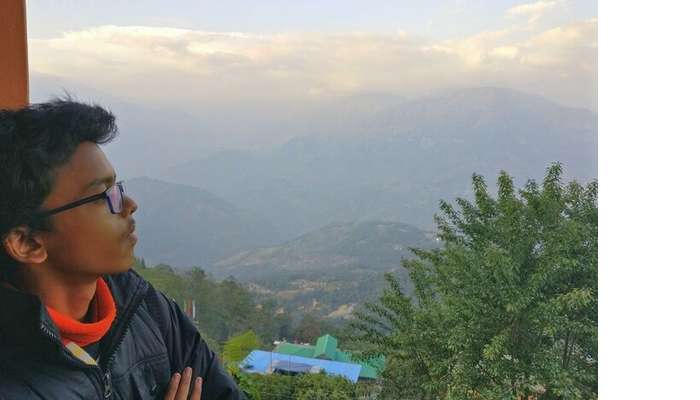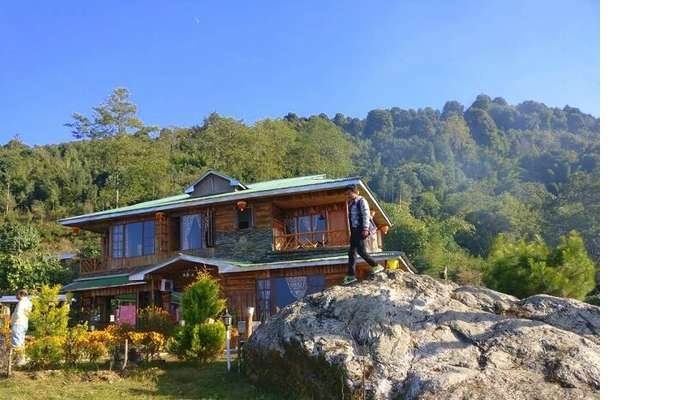 The drive was a wonderful one! We rode through the hills and valleys. We stopped by the stunning Teesta River to click pictures in the company of snow-capped mountains behind us!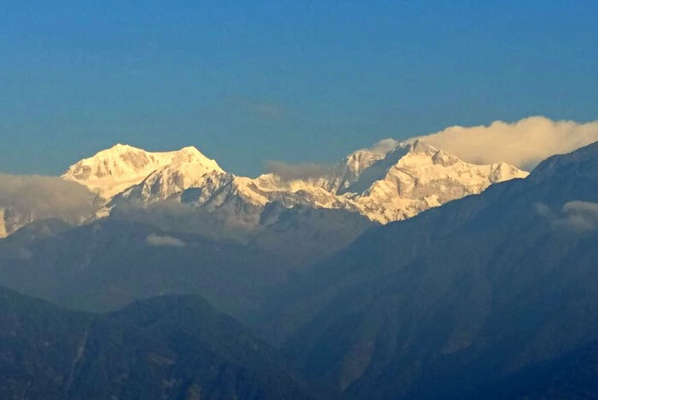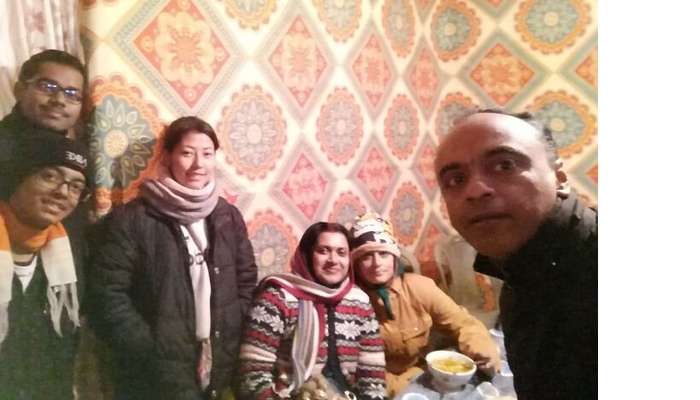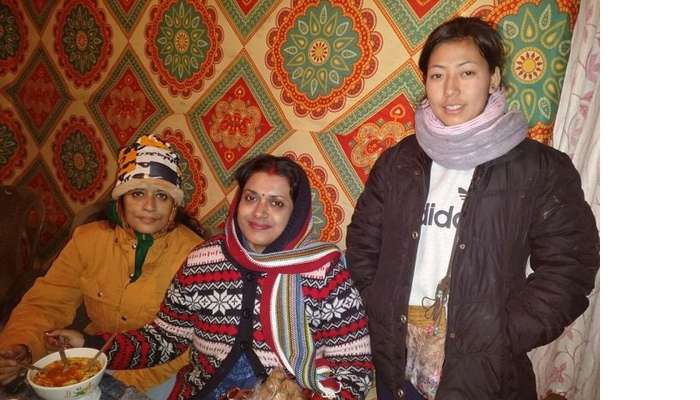 Upon arrival at the hotel in Pelling – BluBen Sodizang Retreat – we completed the check-in formalities and took some rest in our rooms. We spent the day at the hotel itself, checking out the superb property and admiring the views.
DAY 2: Sightseeing In Pelling – From Rivers To Ruins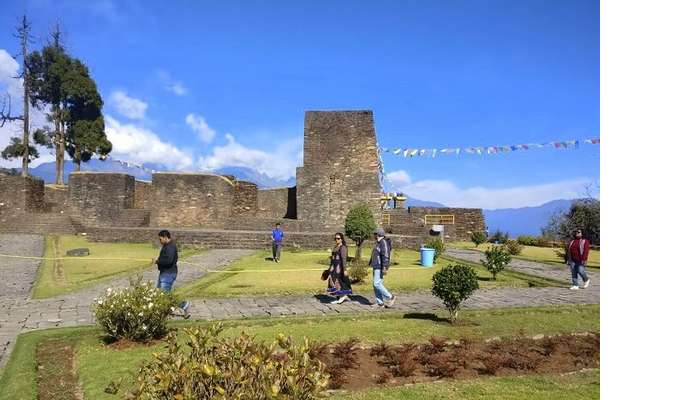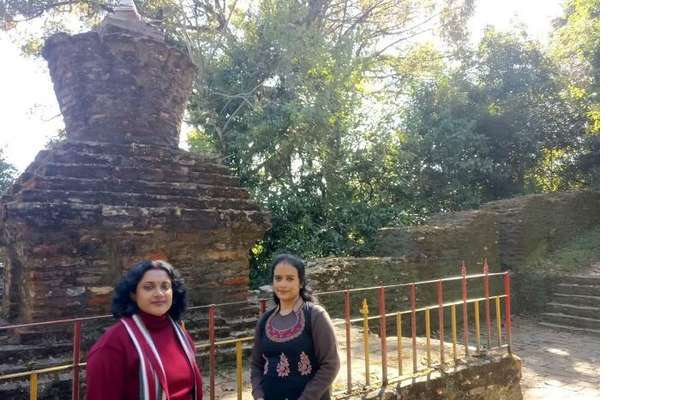 After breakfast, we proceeded for a full day sightseeing tour of Pelling. Nestled at an altitude of 7,200 ft above sea level, Pelling is an offbeat town in the state of Sikkim that offers mesmerising views of the Himalayas and the Kanchenjunga range. We first visited the Khangchendzonga Waterfalls which was cascading in full force at this time, followed by the Pemayangtse Monastery, that seemed to have a calming aura about it.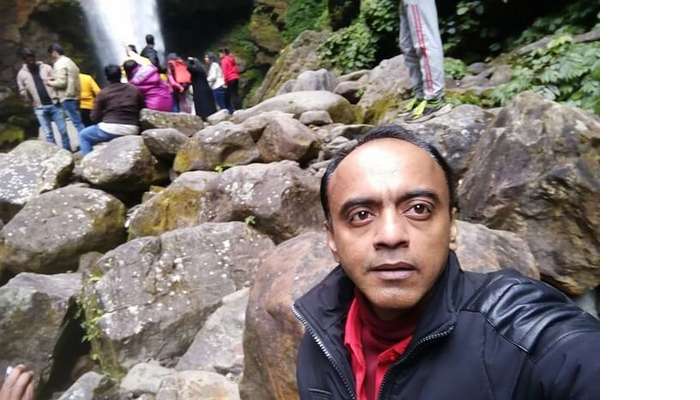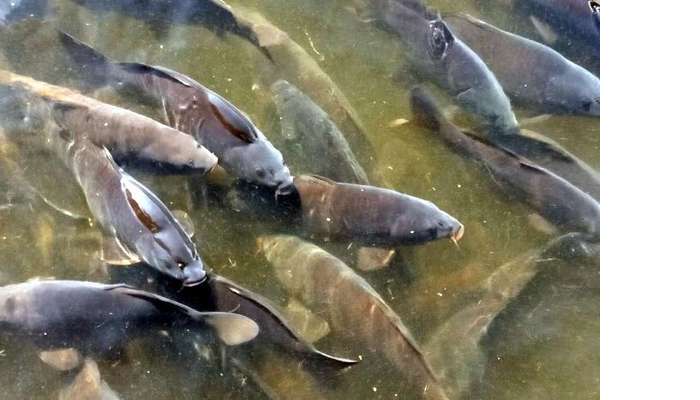 Lying close to the monastery was the next stop of our North East family trip itinerary – the Rabdentse Ruins – the erstwhile capital of Sikkim that was destroyed after the Nepalese invasion.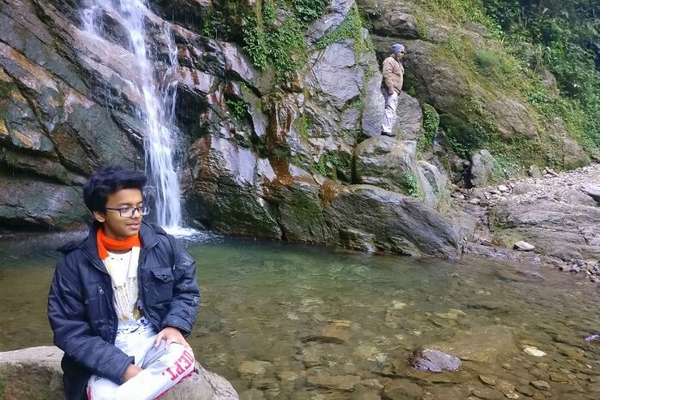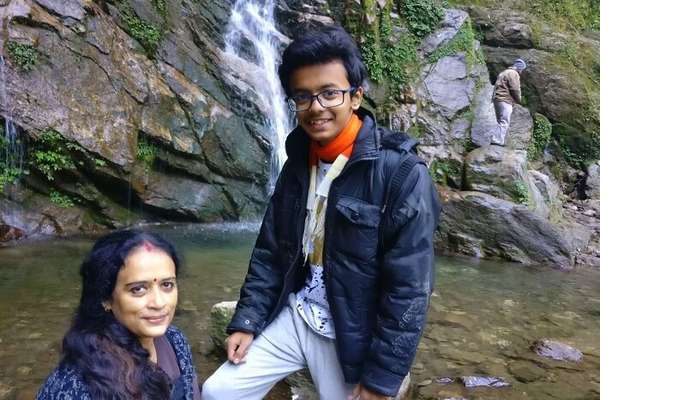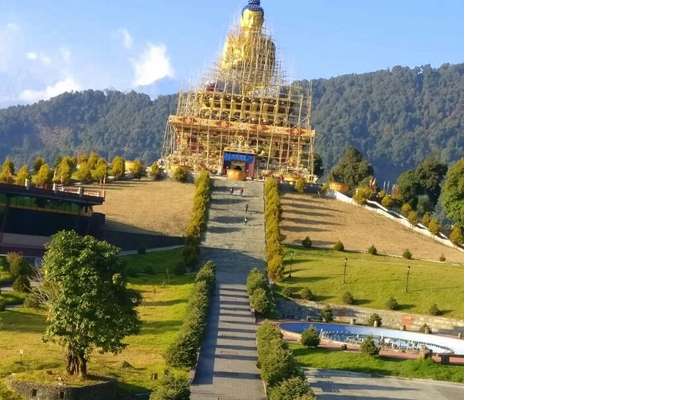 The site of the Rabdentse Ruins offers breathtaking views of the deep valley all the way to the Khangchendzonga ranges. Then we visited other attractions like the Sewaro Rock Garden, the alluring and tranquil Darap Village, the charming Rimbi Waterfalls, and the Pelling Helipad ground.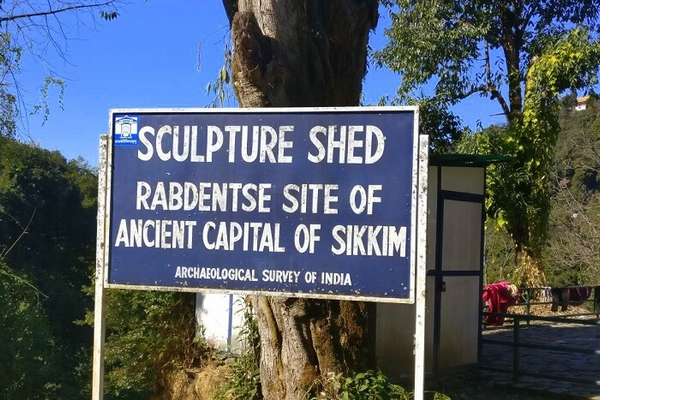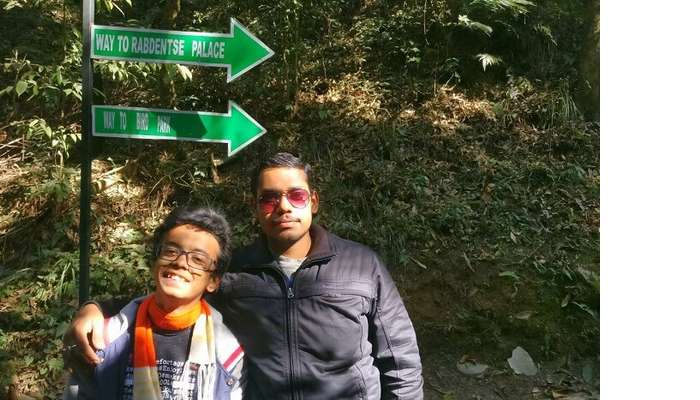 We also paid a visit to the scenic Khecheopalri Lake which is considered sacred by the locals and is surrounded by thousands of prayer flags. It is believed that birds do not let even a single leaf float on the surface of the lake. Overnight stay was at Sodizang Retreat.
DAY 3: Transfer To Namchi Via Ravangla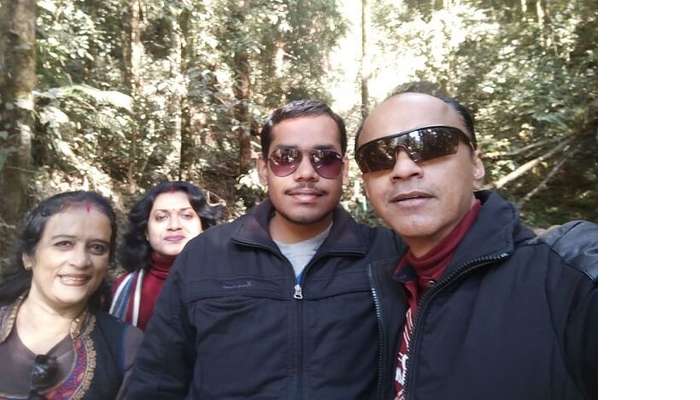 Post a delicious breakfast, we proceeded to Namchi, the next destination of our 5 days North East family trip. We rode through fresh and aromatic tea gardens and it all seemed more like a dream than reality.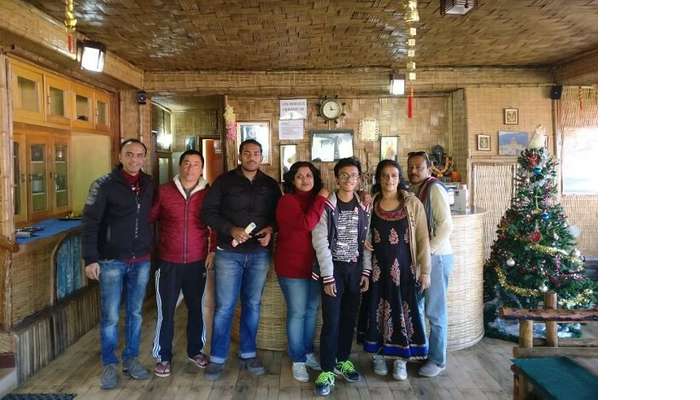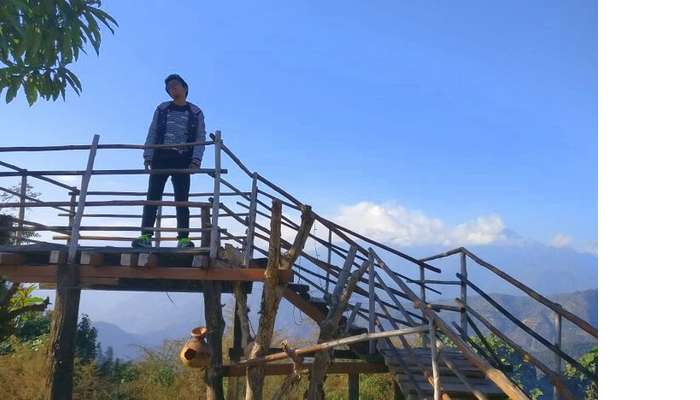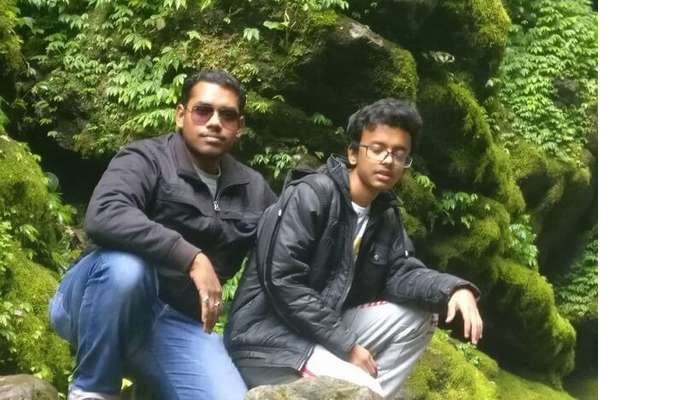 Apart from the greenery, we could also the overwhelming beauty of the snow-capped Kanchenjunga. Soon we reached Siddheshwar Dham, situated on Solophok hilltop, where we were welcomed by an enormous statue of Kirateshwar, an incarnation of Lord Shiva in the form of a hunter.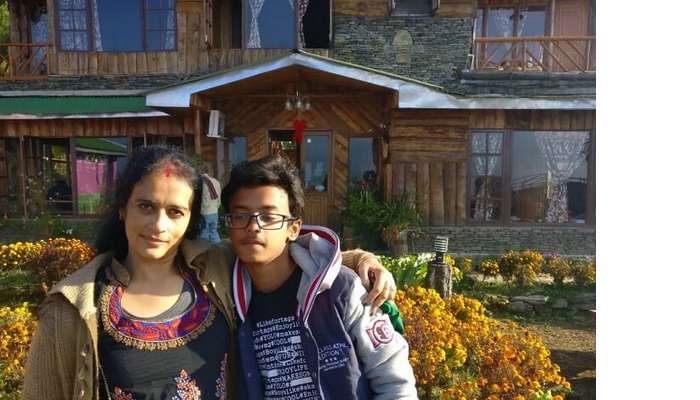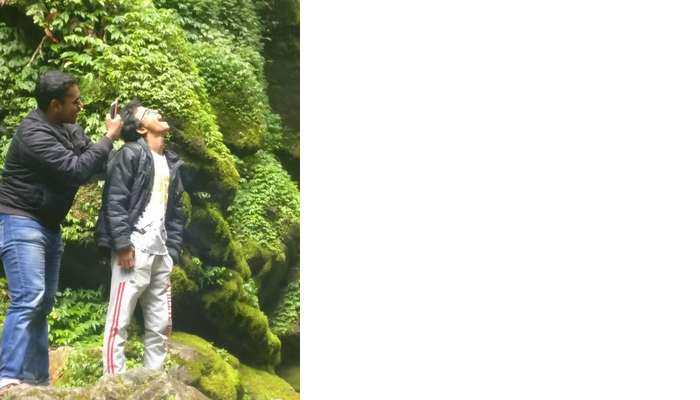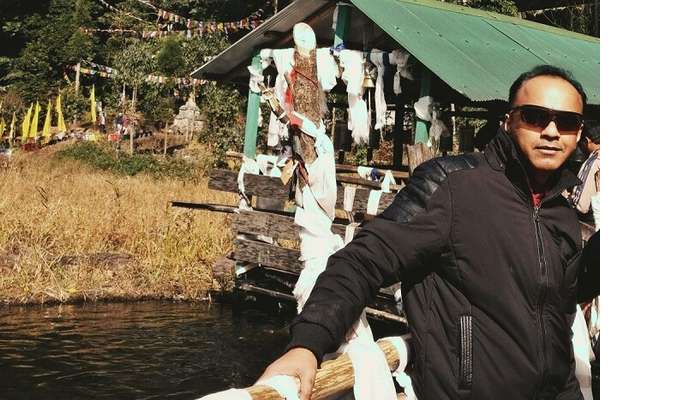 Upon checking into our hotel in Namchi – Mount View – we freshened up and took off to check out our localities in this gorgeous town.
DAY 4: A Sightseeing Tour Of Namchi
We had a sumptuous breakfast at the hotel and then proceeded for a sightseeing tour of Namchi. We visited the world's largest statue of the Buddhist Padmasambhava (at 118 feet), also known as Guru Rinpoche, the patron saint of Sikkim.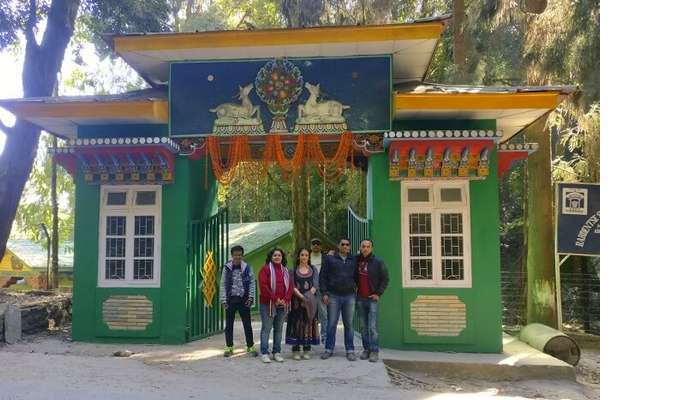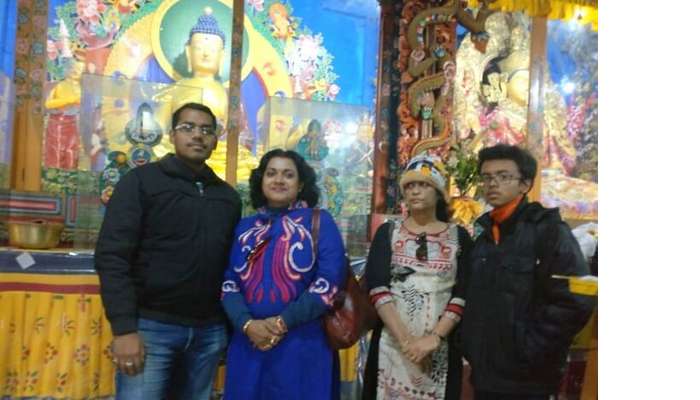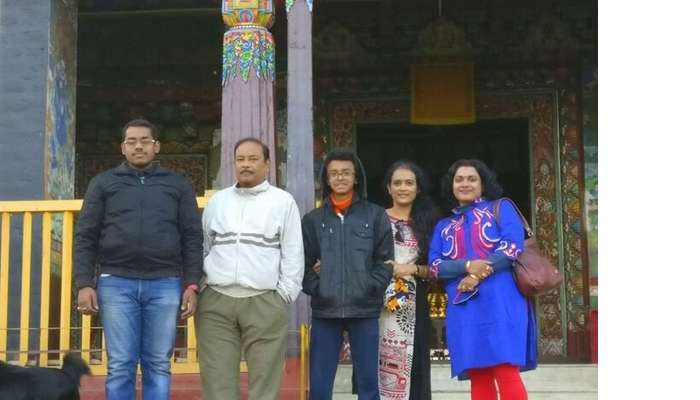 Rising up over the Samdruptse Hill (the Wish Fulfilling Well), the majestic statue can be seen from far off and draws travelers to itself with its beauty. Next, on our Namchi Pelling family vacation, we visited the Ralang Monastery and the Ngadak Monastery, two most colourful and peaceful sanctums in Namchi.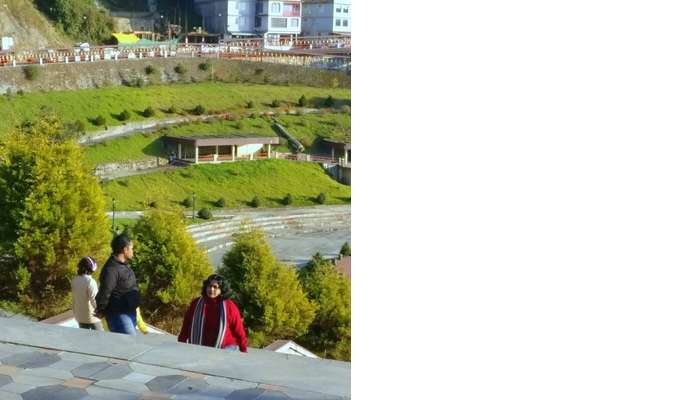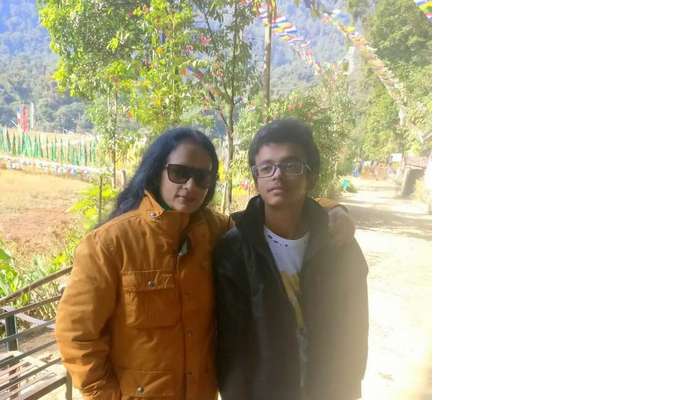 Dinner and overnight stay were at the Mount View Hotel in Namchi.
DAY 5: Transfer To Bagdogra For The Journey Home
We checked out of Mount View hotel and were driven over to the Bagdogra Railway Junction, from where we boarded our train back home with joyous memories of our family trip to Pelling and Namchi.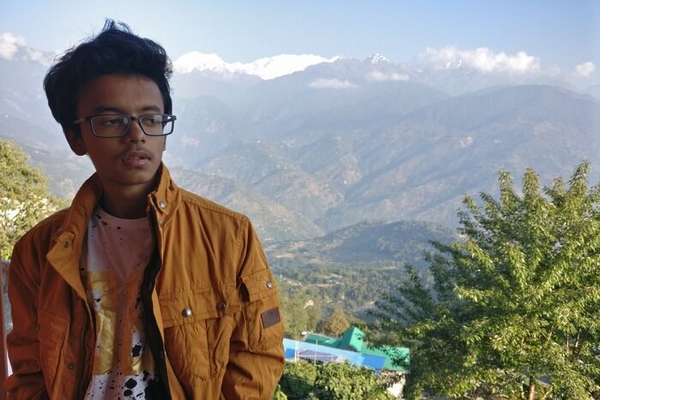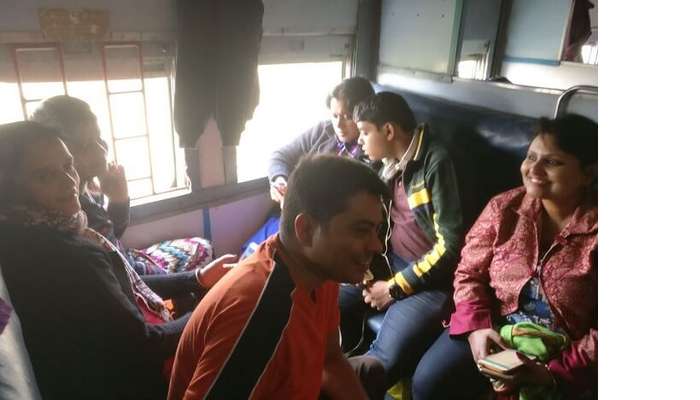 We heartily thank TravelTriangle and WeCare Holidays for being so supportive and committed to making our trip the most memorable part of our lives. Would definitely visit this paradise again as it offers so much more than we could experience in this short duration.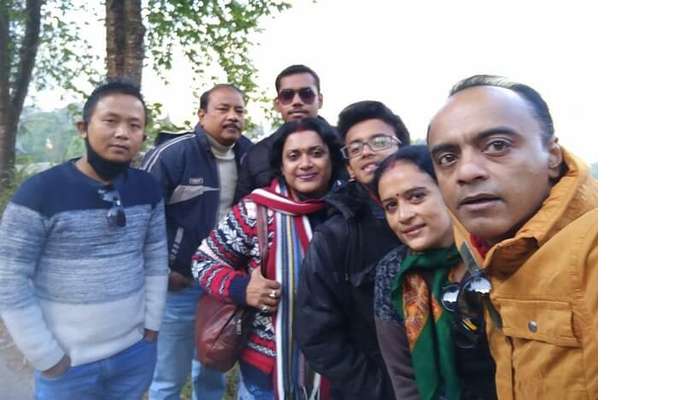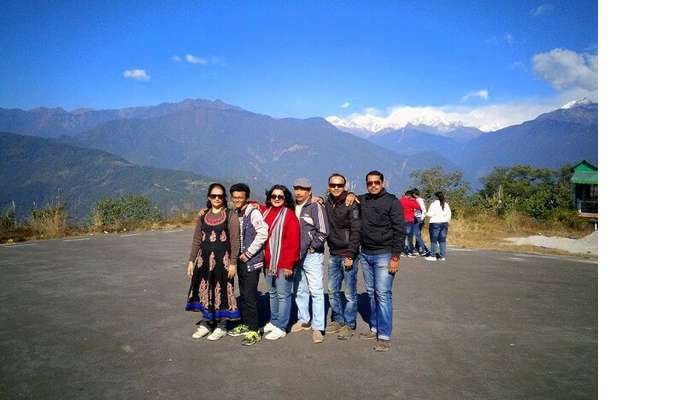 WOW Moments Of The Trip Everything about this trip was WOW for us!
Tips For Future Travelers:
Do not stay at Mount View hotel in Namchi. Pick a better option
Ravangla is equally stunning. One should definitely stay one night there as well
Avoid feeding the fish to maintain cleanliness at the Khecheopalri Lake
Rabdentse Ruins are a little tricky to locate. When descending from Pemayangtse Monastery, take a left turn and walk down the forested path for 10 minutes to reach the gateway of Rabdentse Ruins. The location lies hidden from the main road
Stay at Sodizang Retreat in Pelling for a lavish and enjoyable Pelling family trip experience
Wish to embark on your own North East family trip? Book your Pelling tour package with TravelTriangle right away for the best deals and lowest of prices!
In a fast-paced and a competitive world that we live in today, it is next to impossible for us humans to strike a perfect balance between work, and personal life. As it is often observed, this leads to a lot of stress in our daily lives which needs to be relieved now and then. And nothing rejuvenates our mind, body, and soul like some of the most amazing spa experiences in the world do.
Hence, from a range of ayurvedic therapies to various energizing detox programs, indulge in the most amazing spa experiences in the world and pamper yourself to the core.
25. The Farm at San Benito, Philippines
A tropical paradise encircled by coconut trees and lush plantations on all sides, the Farm at San Benito offers one of the most amazing spa experiences in the world. Located in the heart of Philippines, it is famous for serving plant-based vegetarian food that cleanses one from the inside.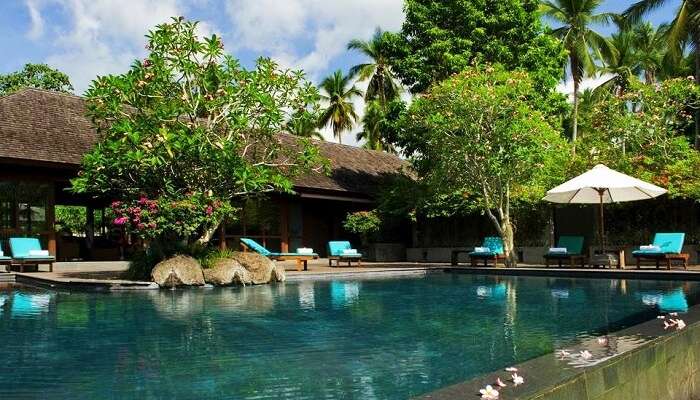 What's Special: Holistic wellness spa programs such as Detox D`lite, and De-Stress and Revivify
Price: Packages start from $1090 per person
Location: 19 Barangay Tipakan, Lipa City, Batangas, Philippines
Phone No.: 00632-884-8074
Website | TripAdvisor Reviews
Looking To Book An International Holiday?
Book memorable holidays on TravelTriangle with 650+ verified travel agents for 65+ domestic and international destinations.
24. Anassa, Cyprus
Dedicated to offering the best of the most amazing spa experiences, Anassa is a an award-winning resort famous for its Thalassotherapy. Literally translating into the healing therapy of the sea, indulging in the best of Thalassa Spa restores the goodness of the sea via series of wellness activities.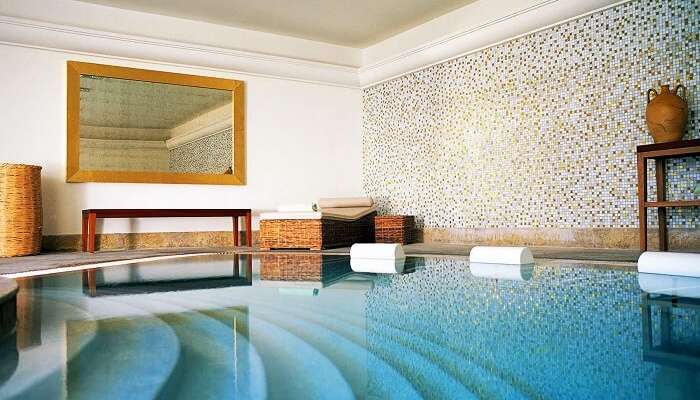 What's Special: Combination of healing thalassotherapy with water-based activities
Price: Packages start from $655 per person
Location: 40, Alekou Michailidi Road, Neo Chorio 8852, Cyprus
Phone No.: 00357-26-888-000
Website | TripAdvisor Reviews
23. Santani Wellness Resort & Spa, Sri Lanka
A perfect amalgamation of nature, yoga, and Ayurveda is what Santani Wellness Resort & Spa promises to the travelers. From personalized yoga practices to ayurvedic wellness programs, the lifestyle at Santani will facilitate you in practicing better physical and mental balance in the heart of Sri Lanka.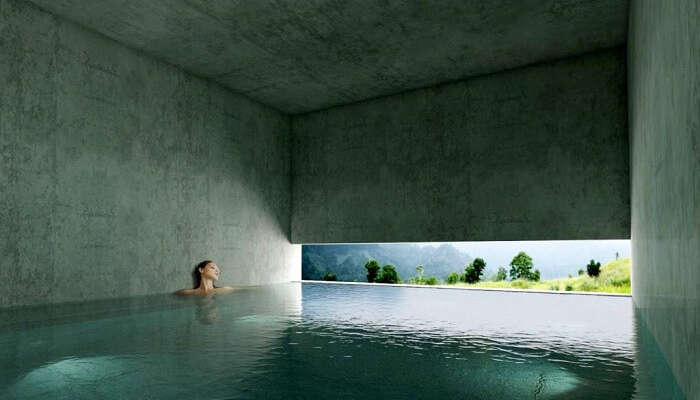 What's Special: Santani Detox programs starting from 7 to 21 days, Personal Dosha Ayurveda Retreat, and the special program of Re-balancing Bliss
Price: Packages start from $335 per person
Location: Aratenna Estate, 00013, Werapitiya, Near Kandy, Sri Lanka
Phone No.: 0094-117-223-230
Website | TripAdvisor Reviews
22. SwaSwara, Karnataka
Spread across an area of about 26 acres, SwaSwara enjoys a scenic location along the coast of Om Beach in Gokarna and amidst all the peace and quiet of lush forests. Be it the goodness of detoxification, the rejuvenation with Ayurveda, or the fun-filled activities at the Om Beach, indulging in one of the most amazing spa experiences in the world at SwaSwara will change you forever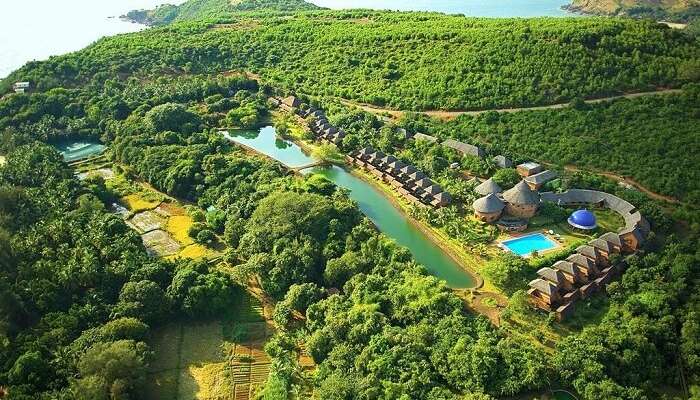 What's Special: Ayurveda Detox and Panchkarma, therapeutic Ayurveda rejuvenation, and endless fun at the Om Beach
Price: Packages start from $2455 per person
Location: Om Beach, Donibhail, Gokarna, Karnataka 581326
Phone No.: 0091-951-3320-360 / 0091-951-3320-363
Website | TripAdvisor Reviews
21. The Destination Spa, Germany
Focusing on the prime areas of medical care, beauty, emotional balance, and detox and nutrition, the Destination Spa located within the premises of Villa Stéphanie offers an holistic approach towards one's well-being. Spread across an area of 5000 square meters and over five floors, the Destination Spa at Villa Stephanie comprises of sauna, a separate ladies sauna, an exclusive library, a private gym, and much more.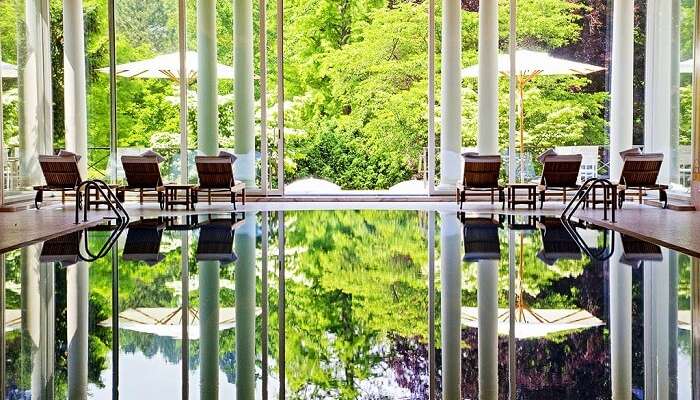 What's Special: Bio Sauna, Aromatic Bath, Hot Foot Bath, and Finnish Sauna
Price: Packages start from $3,600 per person
Location: Villa Stephanie, Schillerstraße 4/6, 76530 Baden-Baden, Germany
Phone No.: 0049-7221-9000
Website | TripAdvisor Reviews
20. La Muse Spa at Villa La Coste, France
Other than the lush bustling gardens and the contemporary art installations, the La Muse Spa offers one of the most amazing spa experiences in the world. Located within the premises of Villa La Coste, it offers lavish wellness retreats through their signature aroma therapies, soothing massages, and clay scrubs.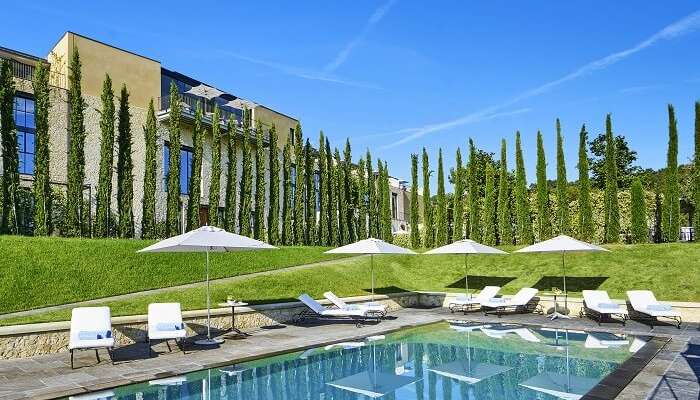 What's Special: Aromatherapy, mud massages, salt scrubs, facials, and ritual massages
Price: Packages start from $815 per person
Location: 2750, Route De La Cride, 13610 Le Puy-Sainte-Réparade, Provence, France
Phone No.: 0033-442-5050-00
Website | TripAdvisor Reviews
19. Adler Thermae, Tuscany, Italy
Loaded with minerals, Hotel Adler Thermae Spa offers the best water treatments in its famous thermal pools. Perched on a small lake in Italy, the hotel also comprises of a sauna set built in olive wood, and a well-built steam room that makes this spa, a dream come true for many travelers.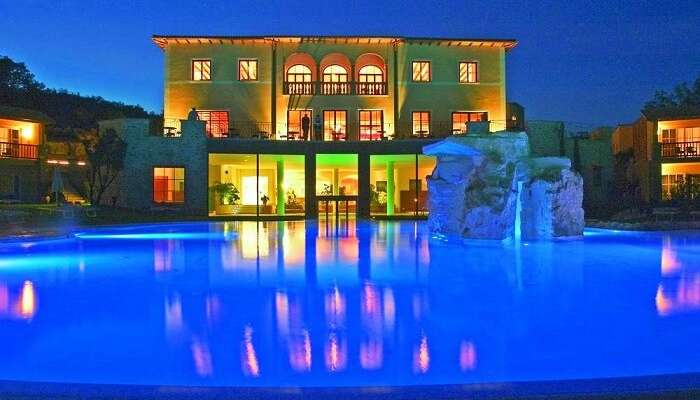 What's Special: Thermal water treatments, ayurveda therapies, and vinotherapy
Price: Packages start from $495 per person
Location: Str. di Bagno Vignoni, 1, 53027 San Quirico d'Orcia SI, Tuscany, Italy
Phone No.: 0039-0577-889-001
Website | TripAdvisor Reviews
18. Parkhotel Igls, Austria
Want to set your health back to the normal mode? Choose the natural way with modern medical spa at the famous Parkhotel Igls in Austria that offers excellent treatment to the guests in a natural environment. With a proper diet being the key, the well-trained staff will prove that wellness lies in simplest of exercises when followed regularly.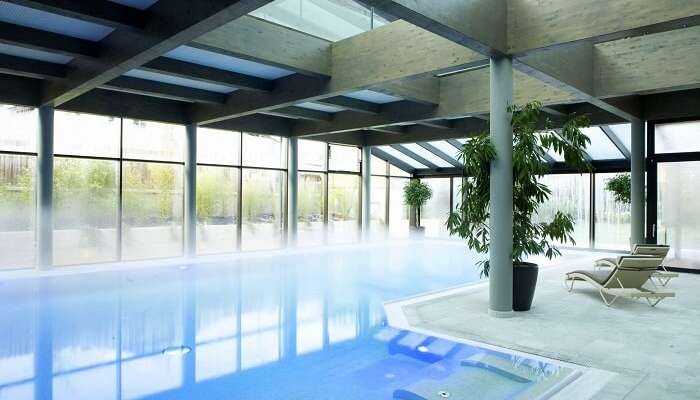 What's Special: Naturopathy, and top-class medical spa with proper diet
Price: Packages start from $1575 per person
Location: Igler Str. 51, 6080 Innsbruck/Igls, Tirol, Austria
Phone No.: 0043-512-377-305
Website | TripAdvisor Reviews
17. Kalari Kovilakom, Kerala
With Ayurveda being the main foundation, Kalari Kovilakom comprises of a treatment centre as well as a hospital within the premises. Working their way out through traditional Ayurveda therapies, Kalari Kovilakom offers the most amazing spa experiences in the world by working on the inward intergration of mind, body, and soul.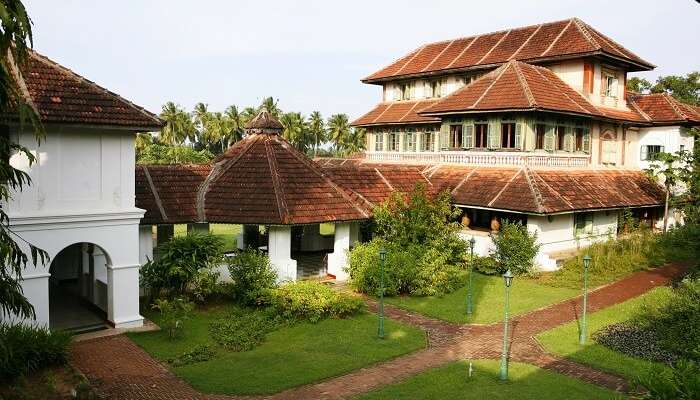 What's Special: Ayurvedic Healing, Cleansing and Rejuvenation, Anti Stress, and more
Price: Packages start from $6640 per person
Location: Payyallur, Kollengode, Palakkad, Kerala 678506
Phone No.: 04923-263-737
Website | TripAdvisor Reviews
16. Amanpuri, Phuket, Thailand
Spa therapies at Aman Spa at one of the first hotels of Amanpuri in Phuket is not just about a refreshing activity. It is more about immersion which requires an individual to get involved in the therapies, fitness programs, cleansing and awareness programs, mentally, physically, and psychologically for a complete change. Hence, Amanpuri Phuket in Thailand is considered to be one of the best spa service providers in the world.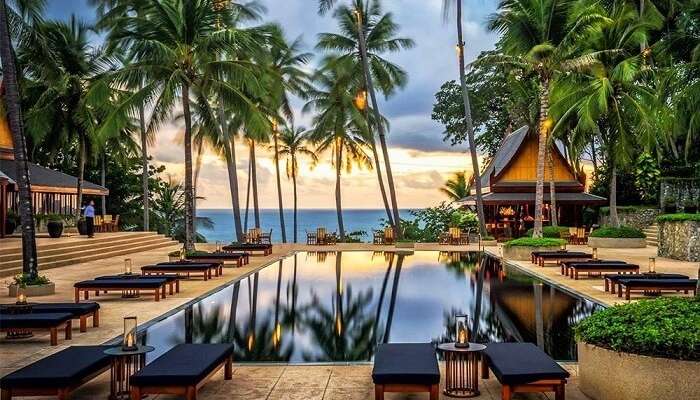 What's Special: Muay Thai boxing programs, circuit training, Pilates, TRX training, and yoga & meditation
Price: Packages start from $7050 per person
Location: 118 Moo 3 Srissunthorn, Pansea Beach, Phuket, 83110, Thailand
Phone No.: 0066-76-324-333
Website | TripAdvisor Reviews
15. SHA Wellness Clinic, Spain
Striking a perfect balance between the traditional therapies and modern techniques, SHA Wellness Clinic in Spain introduces the travelers to modern techniques like stem cell medicine infused via traditional wellness programs. Bringing about a positive change in the lives of the people with their revolutionary regenerative medicine techniques, SHA Wellness Clinic offers the best spa experiences in Spain.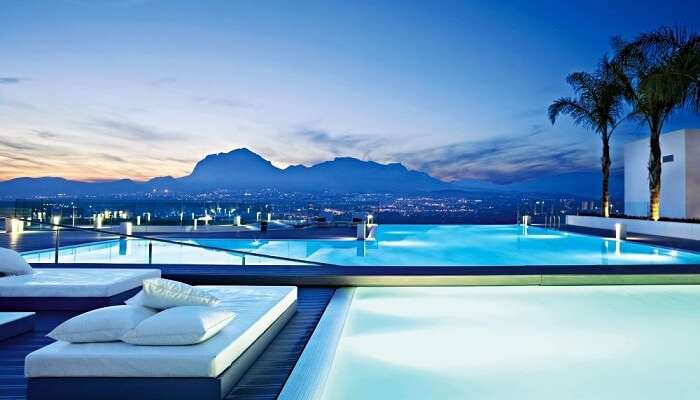 What's Special: Detox and de-stress treatment via East Asian therapies at the white marble spa
Price: Packages start from $2540 per person
Location: Carrer del Verderol, 5, 03581 L'Albir, Alicante, Spain
Phone No.: 0034-966-8111-99
Website | TripAdvisor Reviews
14. The Scarlet, United Kingdom
For all those in the pursuit of peace and quiet, head to the Scarlet Spa in the Cornwell region of United Kingdom. Overlooking the Mawgan Porth Beach and offering stunning views of the Atlantic Ocean and beyond, the Scarlet is the best place to pamper yourself with a range of indoor and outdoor spa treatments.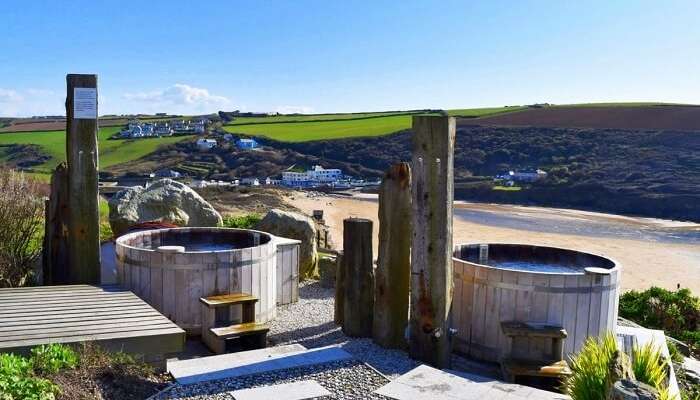 What's Special: Outdoor Barrel Cedar Sauna, Hammam therapies, Rhassoul treatments, and copper tubs
Price: Packages start from $1350 per person
Location: Tredragon Road, Mawgan Porth, Newquay TR8 4DQ, Cornwall, UK
Phone No.: 0044-1637-861-800
Website | TripAdvisor Reviews
Planning your holiday but confused about where to go? These travel stories help you find your best trip ever!
Real travel stories. Real stays. Handy tips to help you make the right choice.
13. COMO Shambhala Estate, Bali
If at all there's one place where one can get closer to nature, it is here at COMO Shambhala Estate. Located in the heart of Bali, COMO Shambhala believes in bringing about a 360-degree change as far as a person's wellness is concerned. From intensive massage therapies to traditional mud treatments, COMO Shambhala has it all.
What's Special: Massage therapy, Body care via mud treatments, Power of Water experience, and expert consultation
Price: Packages start from $3600 per person
Location: Banjar Begawan, Desa Melinggih Kelod, Payangan, Melinggih Kelod, Gianyar, Kabupaten Gianyar, Bali 80571
Phone No.: 0062-361-97-8888
Website | TripAdvisor Reviews
12. Ananda In the Himalayas, Uttarakhand
Travelers cannot ask for more when they're treated to the most amazing spa experiences in the world with the Great Himalayas in the backdrop at the Ananda Spa. Helping the guests regain their balance in life through yoga, meditation, and traditional Ayurveda, Ananda Spa instills a holistic approach towards life with its extensive wellness packages.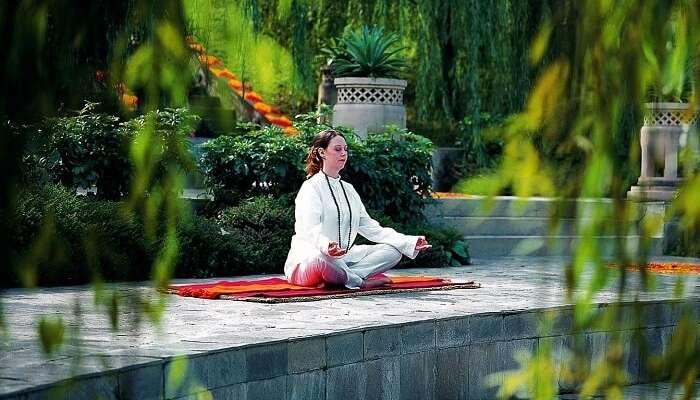 What's Special: Vedanta classes, Dhyana Meditation, Ayurvedic Rejuvenation, and Ananda Yogic Detox
Price: Packages start from $560 per person
Location: The Palace Estate, Narendra Nagar Tehri – Garhwal, Narendra Nagar, Uttarakhand 249175
Phone No.: 01378-227-500
Website | TripAdvisor Reviews
11. Grand Resort Bad Ragaz, Switzerland
At Grand Resort Bad Ragaz, the 36.5° Wellbeing & Thermal Spa not only brings a change but leads the guests to a complete transformation from inside out. From spa therapies to culinary delights, and from medical treatments to the friendly culture, it wouldn't take long to fall in love with the lavish services of Grand Resort Bad Ragaz that offers the most amazing spa experiences in the world.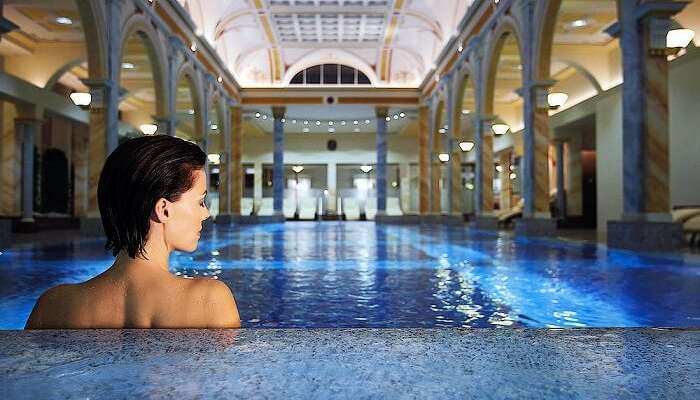 What's Special: Ragazer thermal spa, Altearah Bio massages, Soglio massages, and Haki Rituals
Price: Packages start from $590
Location: Bernhard-Simonstrasse, 7310 Bad Ragaz, Switzerland
Phone No.: 004181-303-30-30
Website | TripAdvisor Reviews
10. Puri Ahimsa, Fivelements, Bali
A vital part of the Fivelements resort in the heart of Bali, the Puri Ahimsa Spa brings the mind, body, and soul in sync and unison through the practices of its traditional Balinese healing, spa rituals, and massage therapies. Perched on the banks of the River Ayung, Puri Ahimsa takes you closer to tranquility by nurturing harmony between the humans and the nature.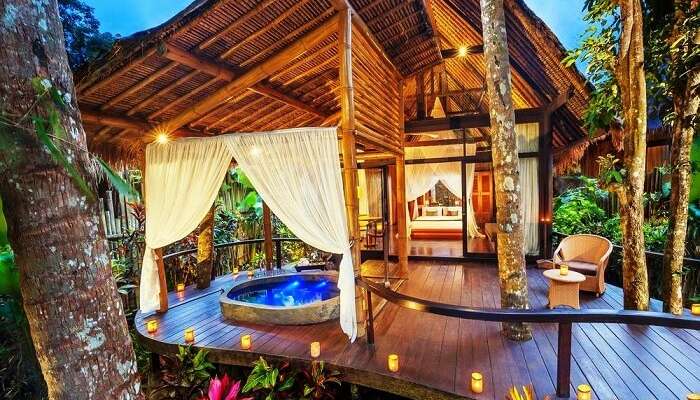 What's Special: Signature Rejuvenation Retreat of Panca Mahabhuta, and Detox Retreat of Tri Kaya Parisudha
Price: Packages start from $305 per person
Location: Jl. Raya Mambal, Banjar Barturning, Desa Mambal, Abiansemal, Mambal, Abiansemal, Kabupaten Badung, Ubud, Bali 80352
Phone No.: 0062-361-469-206
Website | TripAdvisor Reviews
9. Lefay Resort & Spa, Italy
A perfect blend of the East and the West is what the Resort Wellness Spa at Lefay Resort in Italy treats you with. With the Chinese therapies and treatments of the east infused with the modern techniques of Italy in the West, the Lefay Resort & Spa serves as the temple of wellness that offers the most amazing spa experiences in the world.
What's Special: Outdoor heated saltwater pools, the traditional Tuina massage, and Moxibustion
Price: Packages start from $3110 per person
Location: Via Angelo Feltrinelli, 136, 25084 Gargnano BS, Lake Garda, Italy
Phone No.: 0039-0365-241-800
Website | TripAdvisor Reviews
8. Alpine Spa, Bürgenstock, Switzerland
Nestled on a cliff above Lake Lucerne at a height of 500 meters, the Alpine Spa at the Bürgenstock Hotel in Switzerland is synonymous with elegance in terms of location, services, and its architecture. Rejuvenating your senses to the breathtaking views from the infinity pool, the Alpine Spa treats you to some of the best spa treatments in the entire Switzerland.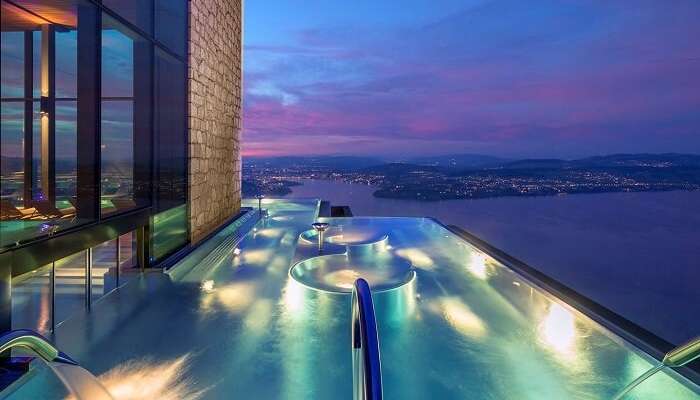 What's Special: Kneipp baths, steam baths, jacuzzi baths, aromatic saunas, Spa Garden, and Room of Silence
Price: Packages start from $692 per person
Location: Bürgenstock 11, 6363 Bürgenstock, Switzerland
Phone No.: 00041-41-612-6000
Website | TripAdvisor Reviews
7. Jiva Grande Spa, Vivanta by Taj, Bekal
Reckoned all across the world for its traditional Ayurveda massages, rituals, and treatments, Jiva Spa offers the best of ancient Kerala Ayurveda. From luxury spa indulgences to signature Jiva experiences, pamper yourself while you immerse in the therapies that align your mind with your body and soul at Jiva Spa in Kerala which offers one of the most amazing spa experiences in the world.
What's Special: Abhisheka purifying ritual, Alepa bathing ritual, Samattva yoga treatment, and Sushupti exfoliation massage
Price: Signature Experiences start from $55 for a minimum of 90 minutes
Location: Kappil Beach, Kasaragod, Bekal, Kerala 671319
Phone No.: 0467-661-6612
Website | TripAdvisor Reviews
6. Aman Spa, Amangiri, Utah
Be it yoga, luxury spa, rejuvenation therapies, or soothing massages, Aman Spa at Amangiri in Utah has it all. But what makes it special is its location. Set amidst the wilderness in a region across 25,000 square feet, Aman Spa in Utah treats the guests to the best of the four natural elements of fire, wind, earth, and water.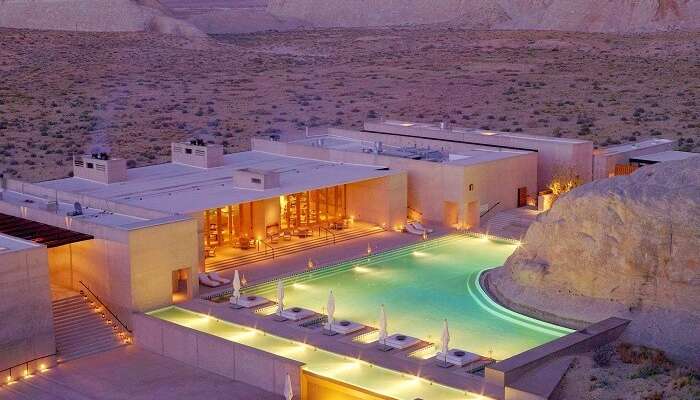 What's Special: Signature Experiences of Desert Dream, Desert Calm, Desert Rain, Navajo healing therapy, floatation therapy, and candlelit restorative yoga
Price: Experiences start from $350 per person for a minimum of 90 minutes
Location: 1 Kayenta Road, Canyon Point, Utah 84741, USA
Phone No.: 001-435-675-3999
Website | TripAdvisor Reviews
5. Song Saa Private Island, Cambodia
Based on the themes of stillness, healing, and blessings, Song Saa Private Island believes in spa and wellness that has no boundaries. Taking people through the best of nature at what is much famed as the Song Saa Sanctuaries, the spa and wellness treatments take place in the open while being surrounded by nature on this breathtaking private island. And to add to that, spa therapies are conducted by the traditional Khmer therapists, well-trained experts who are yogis, meditation gurus, and reiki masters which make spa at Song Saa one of the most amazing spa experiences in the world.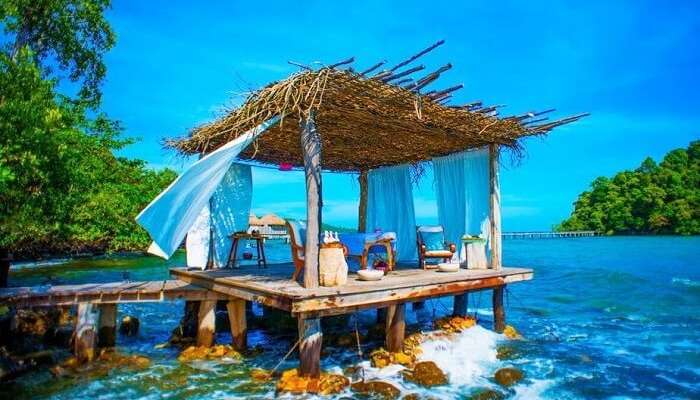 What's Special: Night Spa, Boat of Hope, and wellness programs via kayaking and hiking
Price: Packages start from $1575 per person
Location: Koh Ouen Private Island, Koh Rong Archipelago, Near Sihanoukville, Cambodia
Phone No.: 00855-23-886-750
Website | TripAdvisor Reviews
4. Deplar Farm, Iceland
Encircled by snow-capped mountain ranges, and residing in a hotel with minimalistic design and floor-to-ceiling windows, the spa experiences at the Deplar Farm is equal to experiencing heaven on earth. From crossfit training to cold plunge pool, relish the best of Iceland at the Spa of Deplar Farm.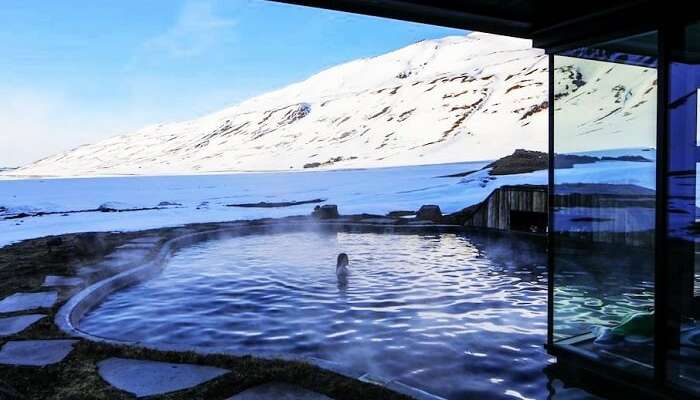 What's Special: Swedish massages, deep-tissue massages, and Shiatsu therapy
Price: Packages start from $2635 per person
Location: Troll Peninsula, Iceland
Phone No.: 0020-8102-9800
3. Four Seasons Maldives at Landaa Giraavaru
If at all there is a place on the face of this earth where the art of Anti-Gravity yoga can be practiced at its best, it is that of Four Seasons Maldives at Landaa Giraavaru. Stranded on an island and with clear skies and crystal waters to accompany, this resort in Maldives is famous for offering the most amazing spa experiences in the world.
What's Special: Ayurvedic immersions, Panchkarma therapies, Om Supti night spa ritual, and Chakra blessings
Price: Each experience starts from $200 per person for a minimum of 75 minutes
Location: Four Seasons Resort, Landaa Giraavaru, Maldives
Phone No.: 00960-66-00-888
Website | TripAdvisor Reviews
2. Rock Spa, Seychelles
Overlooking the Indian Ocean and offering breathtaking views of the panoramic landscape, Rock Spa gets its name from the solid granite rocks on which this spa centre has laid its foundation. Perched on a hilltop, this quaint little teak house lets you relish the best of the Island and nature. Crafted to let the travelers experience tranquility in its true form, it is a must to experience the signature spa and wellness programs when in Seychelles.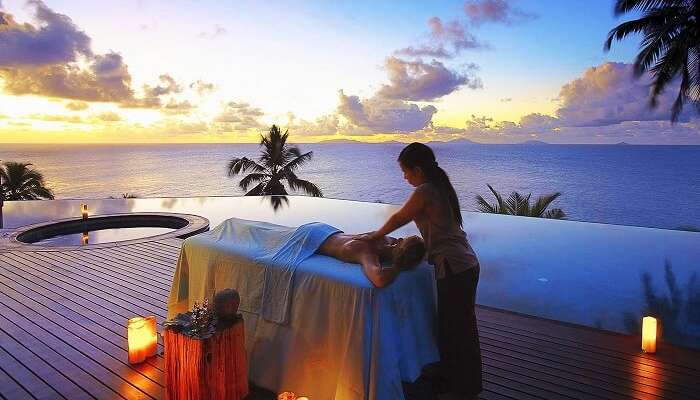 What's Special: Fregate Boreh Hot Spice Ritual, Fregate Signature Massage, and Deluxe Hot Stone Therapy
Price: Particular Experiences start from $116 per person for a minimum of 50 minutes
Location: Fregate Island, Seychelles
Phone No.: 00800-225-4255
Website | TripAdvisor Reviews
1. Aro Ha, New Zealand
Aro Ha in Glenorchy is one-of-a-kind spa where one can witness a perfect balance between wellness and adventure. Be it the eco-friendly accommodation, hiking at World Heritage peaks, relishing the best of Aro Hā's all-vegan cuisine, or indulging in the Aro Hā Yoga therapy, the wellness retreat of Aro Ha in New Zealand in indeed a charmer that offers the best amongst all of the most amazing spa experiences in the world.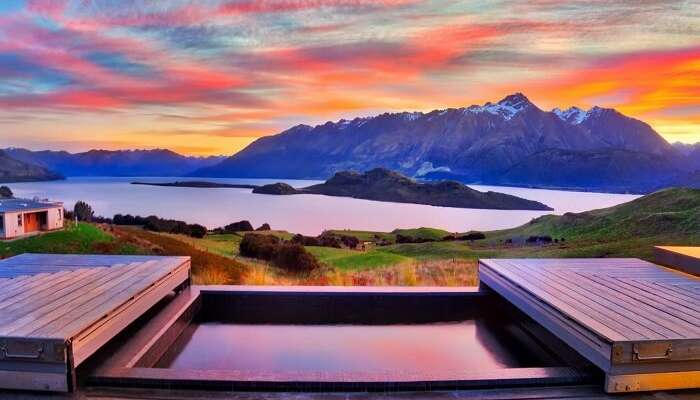 What's Special: Sub Alpine Hiking, Integrated Mindfulness Practices, and Contrast Spa Therapy
Price: Packages start from $3350 per person
Location: 33 Station Valley Road, Wyuna, Glenorchy 9350, New Zealand
Phone No.: 00643-442-7011
Website | TripAdvisor Reviews
Feel like hitting the spa already? Well book amazing international tour packages with TravelTriangle and pamper yourself with these rejuvenating indulgences across the world.
Looking To Book A Holiday Package?
Book memorable holidays on TravelTriangle with 650+ verified travel agents for 65+ domestic and international destinations.
Be it the surreal beauty of South Africa or be it the challenges like Day Zero that it has faced, the country has always strived to stay on the map for its tourists. And ensuring the same, the South Africa Tourism is now aiming for some really big numbers this year. To put it down precisely, as per them, more than 1 lakh Indians are expected to visit South Africa in 2018.
The country is focusing on promoting various activities that will suit all ages and types of travelers as they seem to be more popular among Indian tourists. Alpa Jani, a spokesperson from South Africa Tourism mentioned to PTI that Indian tourists make up the eighth-largest group of travelers to South Africa, wherein the US, UK, and Germany are at the top three. Of this group, most of the Indians are those holidaying with families, couples on honeymoon, young millennials, and people coming for meetings, conventions, incentives and events (MICE).
They also revealed that the business travelers made up around 16 percent of all the arrivals that came during the same period, whereas the leisure travelers and holidaymakers made up around 27 percent. What further came as a good news was the fact that the millennial traveler numbers have risen from just around 35 percent in the first three months of 2017 to 46 percent in the following three months.
In their study, they also drilled down to the regional level and highlighted how Mumbai, Delhi, Gujarat, Bangalore, and Bengal were amongst the major cities whose residents traveled to the country. In lieu of this, Jani also said that the reason tourism numbers from India have been encouraging is the overall challenge that the Indian Tourism Industry has been facing.
And while there aren't any direct flights to South Africa as of now, India still has a number of connecting flights that might help in making the former country meet its expected numbers smoothly this year.
The Linga Island is an isle that lies in Vaila Sound in Scotland and covers a whopping 63.75 acre. This island is now up for grabs starting at £250,000, which for Indian audience is just a little over 2 crore.
As crazy as the deal sounds, it's true and very lucrative too, given the fact that you have acres of greenery to give you company, an ambience void of all the city bustle, and a two acre lake to help you fish in peace.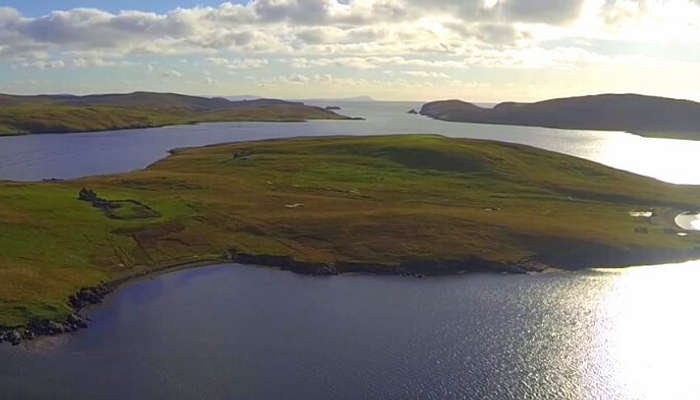 On a commercial note, due to the laws in Scotland prohibiting islands to go in for new construction, the owner is allowed to reconstruct what is already there and other essentials with due permission which explains its incredibly low price.
The property is being sold by Vladi Private Islands, a Scottish realtor and includes permissions to construct a pier, a storage shed with a reception area, and new agricultural buildings. The plans also include building a windmill, solar panels, a new cottage, septic tanks to capture rainwater and shed roofs.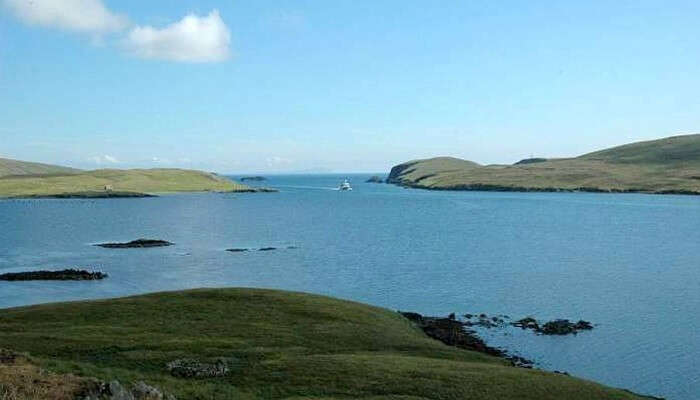 So what will you choose, urban luxury or nature's charm? Choose the latter, we'd say!
Smartphone, front camera, a picture of self, and social media sharing! That's how that the priority of the Gen X, Y, Z can be summed up. "Friends have arrived, food is already here, but wait, let me take a selfie first." No wonder why selfie has grown into an indispensable part of our everyday life, and this contagious manifestation of self-obsession is here to stay. Taking this form of self-love to a whole new level, Los Angeles has opened the Museum of Selfies and it comprises of everything related to "science, art, and culture of self-representation".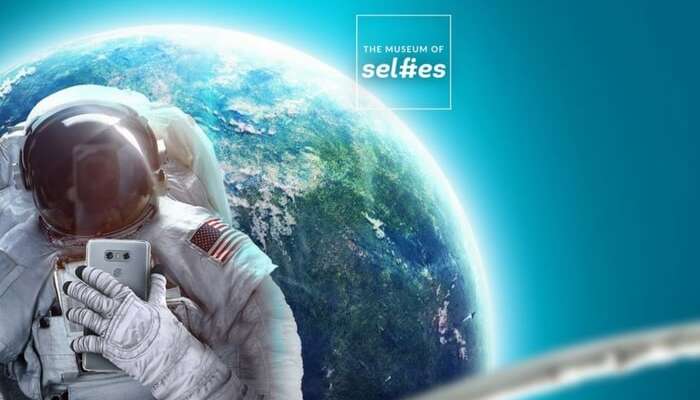 Located 8 miles from the Downtown LA in Glendale suburb this museum is going to be an interactive museum that examines the history and cultural phenomenon of the selfie. And its roots date back to 40,000 years. The museum which will become operational from April 1, 2018, aptly represents everything related to self-love. While the Museum promises to explore the expanse of history related to this social phenomenon, your perception about selfie would evolve for sure.
Everything about the Museum of Selfies in Los Angeles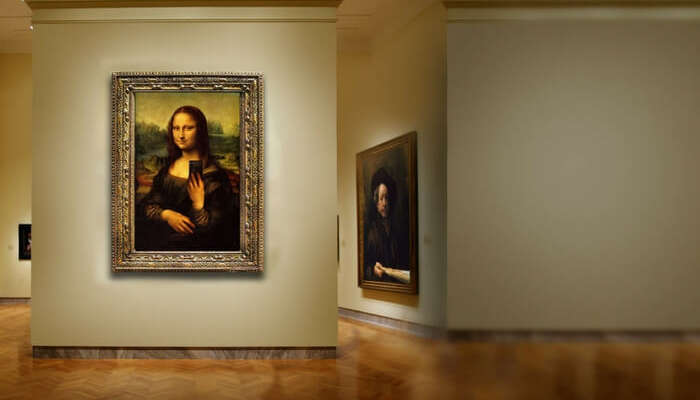 The museum encompasses an overall area of 8,000 square feet in Glendale in Downtown LA
Tommy Honton and Tair Mamedov are the masterminds behind the museum who have approved every piece going to be showcased in the museum
The museum will explore variety of themes that devise "educational yet playful approach"
Prime focus will be on much-loathed food selfie and bathroom mirror selfie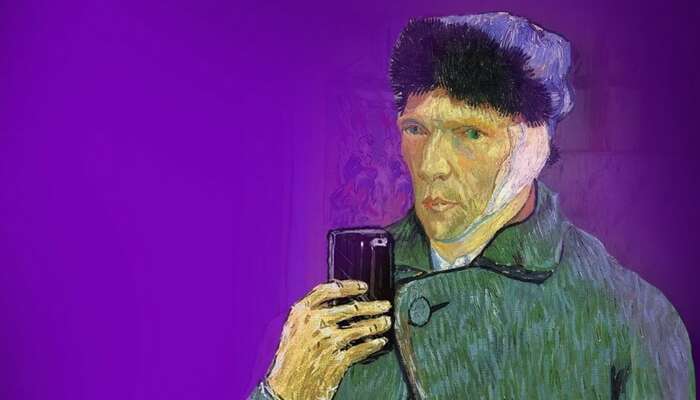 Visitors will get an access to fake skyscraper which they can climb & click a fear-inducing virtual rooftop selfie
There also will be a series of original works by renowned artists that would depict the "provocative and creative vision of the selfie phenomenon"
Selfie-stick throne – a chair made of selfie sticks, and a reported secret work to be unveiled at the museum's opening
Selfie-sticks would be encouraged, leave alone carrying it inside the museum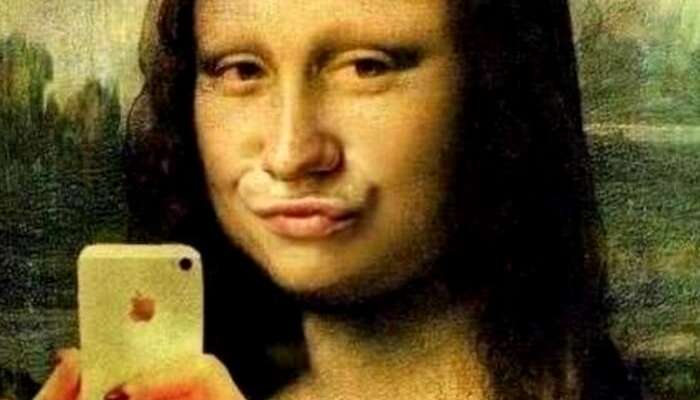 The Museum of Selfies rather has a message and aims to deal with the growing concern of narcissism. The whole phenomenon has infused so deeper into our lives that it must be dealt with sooner and an ordeal has to be made to stop the deaths and other mishaps occurring because of selfies. Apparently, Museum of Selfies LA isn't the first place to explore selfies art. The Saatchi Gallery organized a "From Selfie to Self-Expression" exhibition last year which had remarkable self-portraits, by Vincent van Gogh, Tracey Emin, and Rembrandt.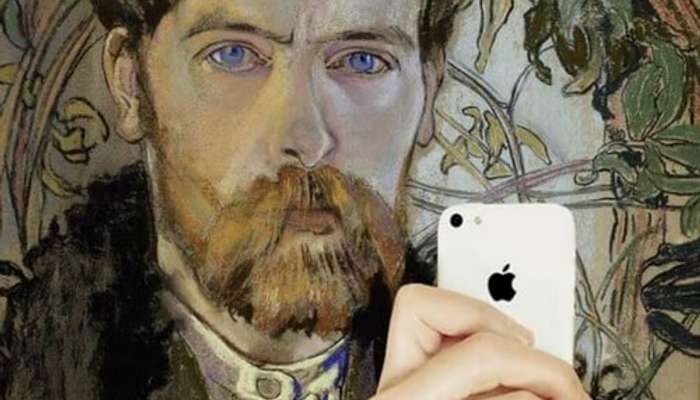 "The relationship between people and art has changed," Tair Mamedov told in the press release.
"Now people don't want to just be a silent consumer, they want to be a part of the art. There are many more selfies with the Mona Lisa than actual Mona Lisas."
Ticket price: £18, free for children under 3
Find more details about the Museum of Selfies Los Angeles here. Bookings info & available slots can be enquired here. Here's the Facebook page of the Museum Of Selfies
How selfie came into inception?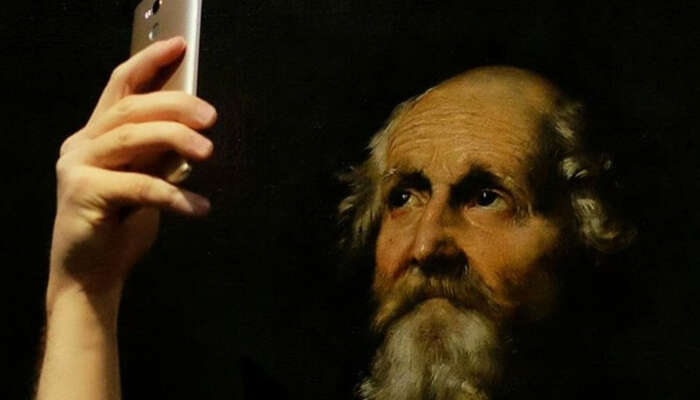 Selfie is a rage today but the oldest know self-portrait dates back to 1839 when Robert Cornelius – an American lamp manufacturer, clicked an image of himself using the daguerreotype process, the first ever publicly available photographing process. To get this image right Cornelius had to stand still for 10 to 15 minutes. The word selfie is believed to have been used for the first time way back in 2002 on an Australian online forum.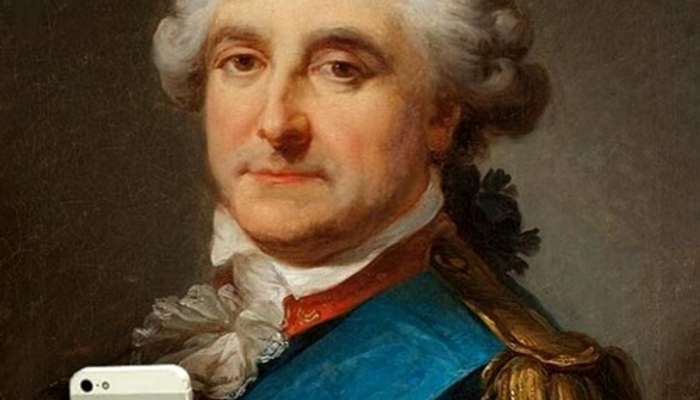 The caption read "Um, drunk at a mates 21st, I tripped ofer [sic] and landed lip first (with front teeth coming a very close second) on a set of steps. I had a hole about 1cm long right through my bottom lip. And sorry about the focus, it was a selfie." The word became popular later in 2012 where people started using it widely on social media channels like Facebook, Instagram, Flickr, and MySpace. Later Oxford English Dictionary added it terming the word as the 'Word of the Year' in 2013.
Selfie is undoubtedly the biggest trend of the 21st century and it is here to stay. The Museum Of Selfies in Los Angeles only honors it in true spirit and is certainly going to be worth a visit.
Just when we think we have got our bucket list full, comes another travel surprise and our list keeps on increasing. But who cares, as long as we get to have wonderful experiences, right? So, ensuring the same, Energia, a Russian rocket-space enterprise, has rolled out a really great news, which is that you can walk through space as early as next year.
The company is planning to send tourists to the International Space Station wherein the 10-day trip is estimated to cost around $100 million (Rs 640 crore). Though nothing is finalized as of now as Vladimir Solntsev, a top official from Energia has told, "We are discussing the possibility of sending tourists on spacewalks." to a Russian tabloid Komsomolskaya Pravda.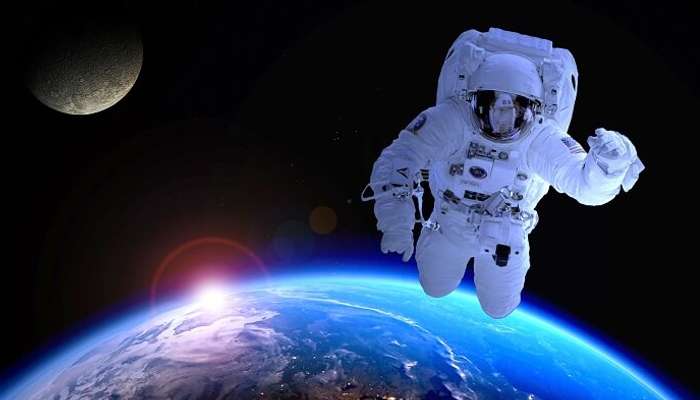 If this comes true, you will be able to spacewalk around the International Space Station, click incredible picture, and even record videos. Servicing only five to people per year, this lavish experience will initially stay exclusive. Energia is also building an all new module called NEM-2 to make the whole journey tourist friendly. The module will be made keeping both luxury and logistics in mind, and will focus on comfortable cabins, two toilets, and internet access.
But this isn't the only company who is in the headlines for its efforts in space tourism. Elon Musk's SpaceX and Richard Branson's Virgin Galactic have also been the talk of the town for similar endeavours, however Energia outshines as it has got a lot more experience. If you've heard of the first man who went into space in 1961, you will know what we are talking about.
While we cannot wait for the next year to come, a market research has already revealed that the rich and richer are ready to pay the price to walk through space. Are you? Do let us know what you think in the comments below.
As much as it looks like domestic travel has inspired and evoked the never-ending wanderlust in Indian travelers, a recent study carried out by Google India and Boston Consulting Group (BCG) reveals that India is set to become a 48-billion dollar travel market by 2020. According to the report called Demystifying The Indian Online Traveler, the domestic travel market in India is expected to grow at a rate of 11 to 11.5 percent within a span of next three years.
The report not just maps the decision making process by Indians throughout the planning of a trip, but also opens up umpteen opportunities for the growth of travel industry as a whole. From the frequently visited touch points to the highest contributor to the travel industry, here are some of the key findings of the report that are informative, interesting, and intriguing at the same time.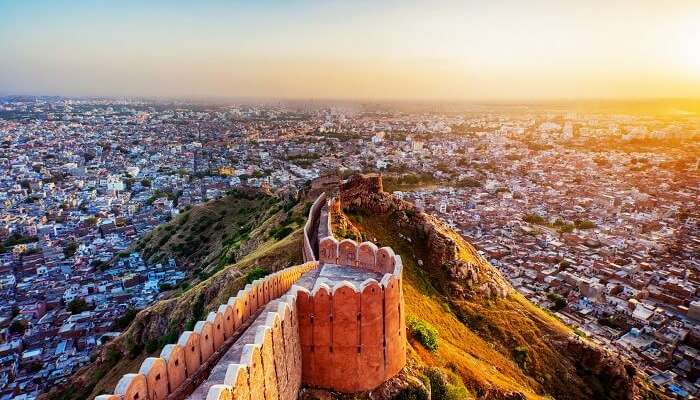 The domestic travel market in India is predicted to grow at the rate of 11 to 11.5 percent to about $48 billion by the year of 2020.
The biggest contributors of domestic Indian travel market will be the air travel and the hotel industry.
While air travel is projected to grow at a rate of 15 percent to $30 billion, the hotel industry is predicted to grow at a rate of 13 percent to $13 billion within three years.
With an increase in the penetration of smartphones and usage of digital wallets, the presence of travelers on online platforms is expected to increase as well.
The network of railways is predicted to slug through at a current pace of $5 billion.
With a penetration of 31 percent, the online hotel market in India is expected to grow at an annual rate of 25 percent (CAGR) to $4 billion.
The penetration of online hotel market will increase to an extent that within a period of three years from now, one in three bookings for hotel accommodation will be done online.
Of all the existing touch points, Online Travel Agencies or OTA (64 percent), search engines (33 percent), and maps (26 percent) are the top three touch points that have maximum reach among the travelers.
When it comes to a planning a vacation which includes research, planning, and bookings, an Indian traveler spends about 49 minutes over a period of 46 days and browses through a maximum of 17 varied touch points on an average.
The duration of each online session which sums upto a total of 49 minutes, is observed to be below 3 minutes which is primarily due to the ubiquity of smartphones.
As far as research is concerned, 57 percent of the travelers have it in their opinion that they find better deals and discounts on online platforms against 12 percent of the travelers who still prefer offline sources.
Of the 57 percent travelers that research online, 41 percent of them find it comfortable and convenient to book their trips online.
Of all the factors, 76 percent of the travelers get inspired to travel via the positive word of mouth that is spread by their friends, family, and colleagues.
Also, ratings and reviews given by other travelers and consumers act as the prime factor for influencing the traveler's choice of a booking channel.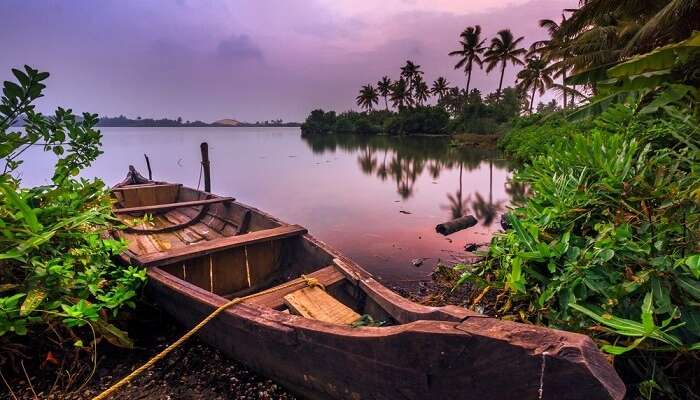 According to Vikas Agnihotri – the Industry Director, Google India, "India's domestic travel market is on an acceleration path. One of the key findings of the report is that by 2020, one in three hotel rooms will be booked online – a clear indicator of the growing importance of digital in travel research, planning and booking. There are several actionable insights for domestic online travel players including the role of mobile and the level of curation and personalization that Indian travellers are looking for."
On the other hand, Abheek Singhi, Senior Partner and Asia Pacific Head of Consumer Practice, BCG said, "Travel is a high investment – both monetary and emotional – category. Technology has led to democratization of travel through better information and price discovery – and shall lead to 11-11.5% growth in years ahead. The question is " how to address the 17 different touch points of three minutes each over 49 days!"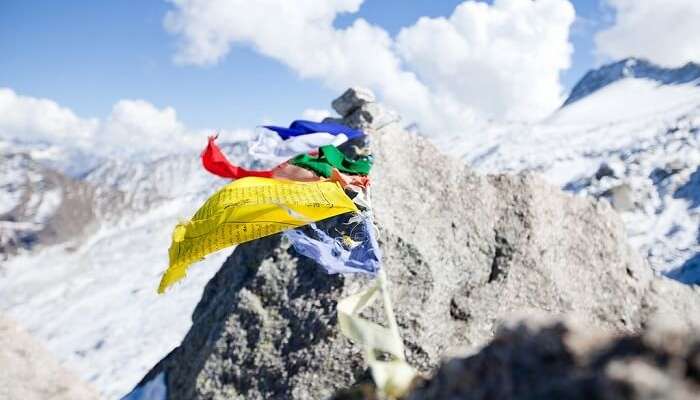 While it was also observed that Indians travelers seek customized services over privacy in a recent report by Amadeus, this study by Google India and BCG only comes in as an added advantage for the travel businesses especially those who have their presence, online.
As much as it's clear that a vacation for majority of Indian travelers is a serious business, the evolution of domestic Indian travel market will be an interesting turn of events in the near future. However, it all boils down to how the leading online travel portals capture the needs of the travelers right at the planning stage of a vacation, which is not just a trip, but a well-thought and well-planned call of action by the travelers of India.
Do you dream of owning a pretty home in a rustic Italian village? You can now make those dreams come true! Located in the mountain region of Barbagia on the Mediterranean island of Sardinia, Ollolai is a small Italian village that is selling hundreds of abandoned homes for just €1 (INR 80/- or $1.2).
Though it isn't the first Italian town to try the gimmick, it definitely is the first to live up to the promise. And the best part – It's also got that beauty and history that travelers associate the country of Italy with, something that is needed to draw people in.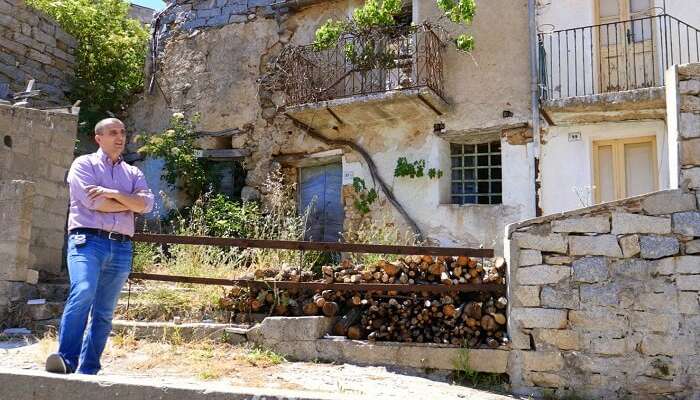 However, it all comes with a catch – This real estate bonanza of over 200 stone-built dwellings are in poor condition and buyers are required to commit to a refurbishment within three years, which, in turn, will easily cost about $25,000 (16 lacs).
A destination lost in time, Ollolai is at a risk of becoming a ghost town. The plan was initiated to revive the community, repopulate the town, and preserve their culture. In the past 50 years, Ollolai's population has shrunk from 2,250 to 1,300, with very few babies being born each year.
Once buzzing with activity, this untouched part of Sardinia now lies silent, as its younger residents have moved away to bigger cities for prospects of better jobs and better lives. Covered in cobwebs, Ollolai's stone dwellings, maze of alleys, and mural-covered piazzas now lie in ruins.
"We boast prehistoric origins. My crusade is to rescue our unique traditions from falling into oblivion," said Efisio Arbau, Ollolai's mayor when asked about the rejuvenation plan. "Pride in our past is our strength. We've always been tough people and won't allow our town to die. We once had a fiery king, Dux Ospitone, who united all heathen tribes in a league," he added, stressing on how this city, named out of an ancient battle cry of "alalé", is fighting once again. "These hills are Italy's 'Highlands' and we are sons of 'Bravehearts'."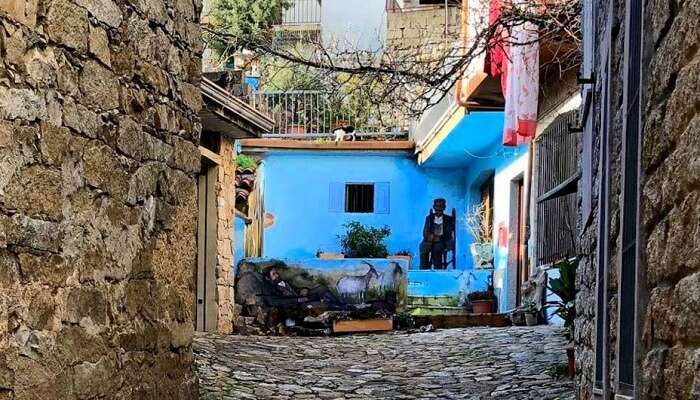 He hopes the refurbishment plan, if successful, will help create new jobs and revive the local economy, other than breathing life back into this currently solemn town.
The remaining residents, too, haven't lost hope of retaining the town to its former glory. Traditional ways of life still survive. Local shepherds still make the exquisite premium sheep cheese – Casu Fiore Sardo, and artisans still weave fine baskets.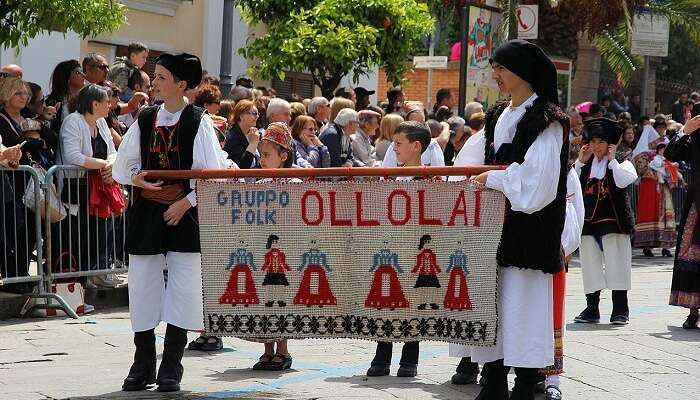 In a bid to breathe new life into this once frivolous town, Arbau had taken some major steps:
He contacted Ollolai's former house owners, which included shepherds, farmers and craftsmen, asking them to sign their homes over to town authorities.
He approved a special decree and put the properties on the market at bargain prices.
He has put 200 homes on the market for just one euro.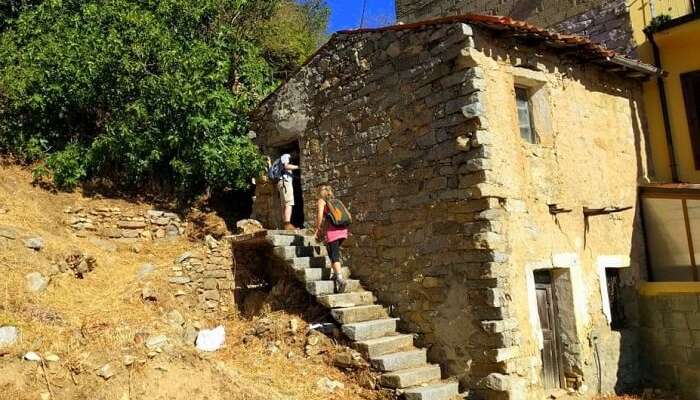 Three houses have already been sold despite the poor conditions and Arbau has received purchase requests from more than 100 interested parties from across the world, including Russia and Australia.
One of the buyers, Vito Casula, a retired builder, has already snapped up here a two-story house for less than the cost of a cappuccino. He has transformed his new home only by using environmentally friendly materials and recycling old furniture, while keeping the original decor intact at the same time.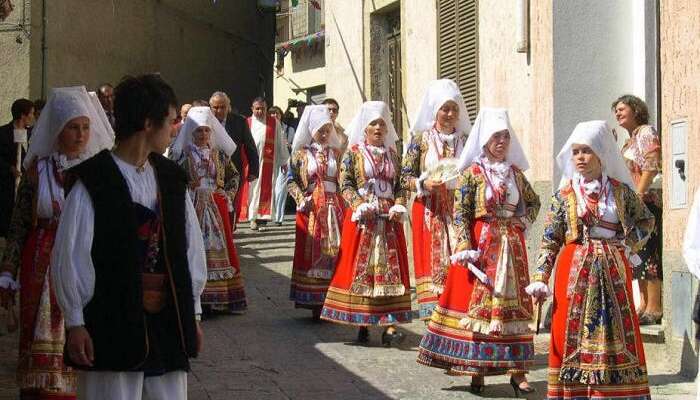 "We live nearby and frequently visited Ollolai. Then one day my wife saw the ad in the newspaper. It was an opportunity," said Casula.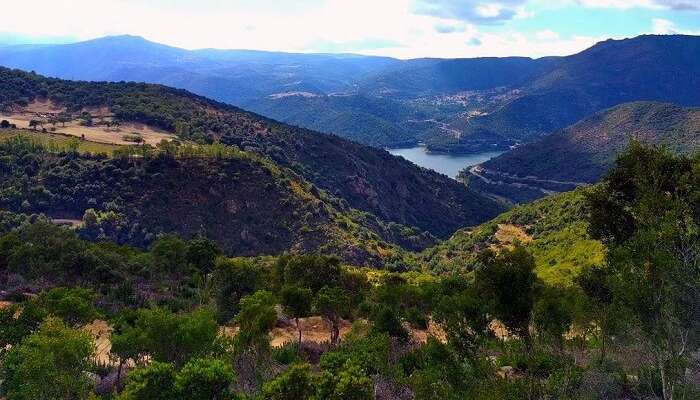 "They're picturesque old buildings made with Sardinia's typical gray granite rock that grows on mountain peaks and shores," says Arbau while describing the town's top selling points and what's drawing people here.
The town has a relaxing vibe and friendly locals who will make you feel at home.
Ollolai is known among travelers for its unique and delicious cuisine including the finest of wine, ham, sheep cheese, and many more delicacies.
The town's carnival is a sight for sore eyes – parades, music, and bright costumes.
The sunny retreat offers great views from its 1,200-meter-high peak Nodu de S'Aschisorgu (Treasure Rock)
Ollolai is surrounded by beautiful lakes, rivers, protected parks, oak and beech tree forests, and the shimmering seas.
Nearby are the breathtaking cliffs of Cala Gonone that have breathtaking sea grottoes perfect for snorkeling and scuba diving.
In addition, Arbau is introducing activities like cheese, pasta, and basket making courses.
All proposals, complete with the required documents of the interested person, must reach the Municipality of Ollolai before 7th February 2018, the last date of the scheme. You can either send your details at protocollo.ollolai@pec.it, or write to them at case1euro.ollolai@gmail.com. Hurry!
Though interest in the town is growing rapidly and the locals are really excited, only time will tell if the town's efforts and the mayor's gamble have paid off. But what about you? Would you fancy a life in this rustic old village in Italy with great people, views, food, and charm, all for an amount as low as 80 rupees? Let us know in the comments below.
Kolkata has an all new floating market and it becomes the first Indian metro city to have such attraction. Certainly, we are overjoyed to share this exciting development with you! In a bid to rehabilitate the vendors who lost their space during the widening of EM Bypass, the government has set up a floating market and it looks like a promising tourist attraction already. With this market, India joins the league of countries having similar markets like Bangkok, Singapore, and the very own Dal Lake in Kashmir.
The decision to shift the market located on the EM Bypass was taken by the Kolkata Metropolitan Development Authority (KMDA) 3 years ago so that the roads could be widened.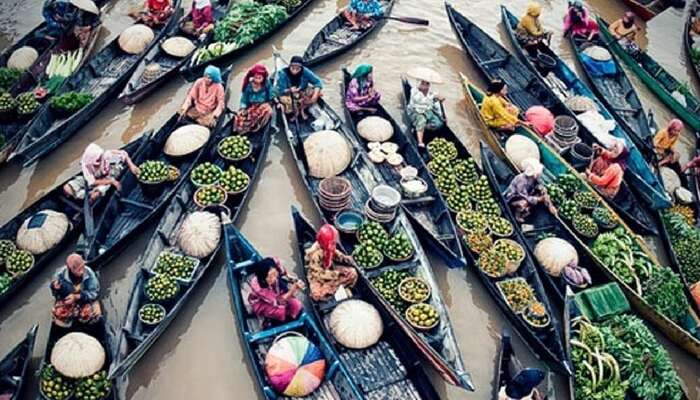 The KMDA has set up a floating market in the south of the Kolkata city to compensate all the traders who lost their business space. The entire floating market space would be set up on a water body close to Patauli and would cost the government around 9 crores. In total there will be 114 boats having stalls selling vegetables, fruits, fish, meat, cereals, rice, edible oils, and tea. And this market will remain from 6 pm to 9 pm. This development not only makes floating market in Kolkata the first in the state but also the first metro city in the country to have such market place.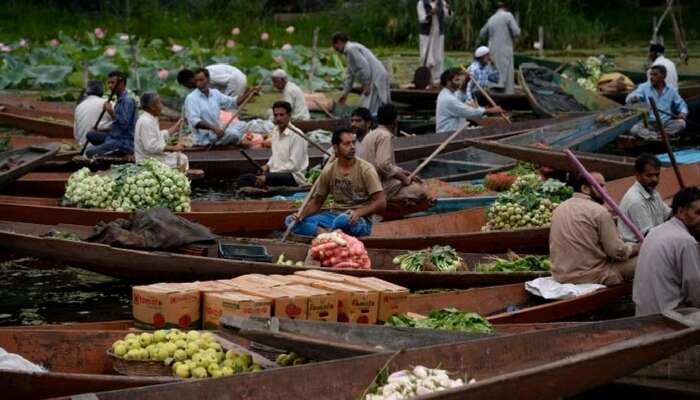 "There are many sellers who have been displaced because of the widening programme of the EM Bypass taken up at Patuli area near Garia. Our principal idea is to rehabilitate those who were having their business at the Baishnabghata-Patuli market on the EM Bypass to the floating market," a senior official of the KMDA said in a press release.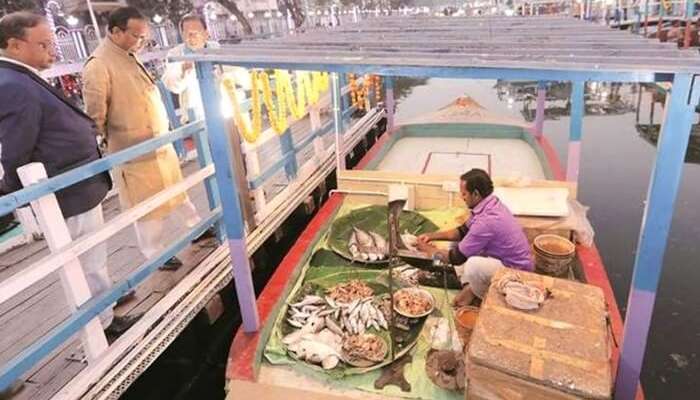 Highlights of the floating market in Kolkata:
The market begins with an attendance of 114 boats and 228 sellers
The KMDA has already purchased 32 of the estimated 114 boats & the remaining boats are believed to arrive by the month end
Every boat will be 10 feet long and will be designed and colored in accordance with those in Pattaya's floating markets. The boats will hold the capacity and space for 2 stalls
KMDA is also planning to make a foot overbridge via EM Bypass to the market area
A manicured lawn, gardens, grocery shops, and Sulabh Toilet Complex would also be made by the market side
Over 200 hawkers are set to be rehabilitated in the market
There will be wooden walkways for buyers to reach the desired boats. These walkways will have proper entry & exit
Two water bodies have been merged to set up the market space
There, now that the floating market comes up in Kolkata you have got one more reason to plan a trip to the City of Joy soon!